White House Declares Ukraine Has Won Battle Of Kyiv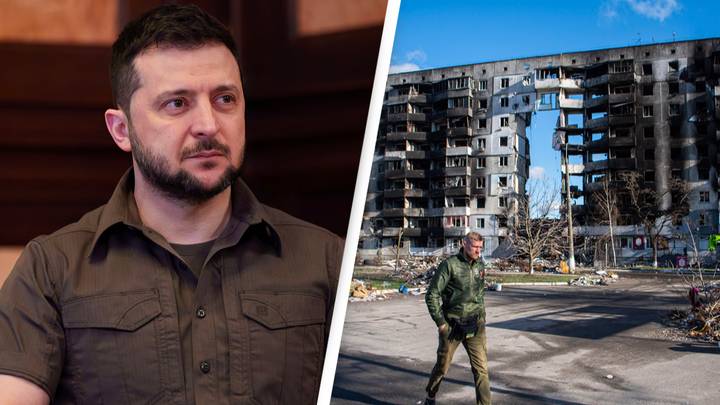 Featured Image Credit: Alamy
White House press secretary Jen Psaki has claimed Ukraine has 'won the battle of Kyiv' in the fight against Russia.
The claim came after Kremlin spokesperson Dmitry Peskov admitted on 8 April that Russia has suffered military losses in the weeks since Vladimir Putin launched his invasion of Ukraine.
Speaking to Sky News, Peskov declined to answer how many civilians had died since the war began on 24 February, but said: "We have significant losses of troops and it's a huge tragedy for us."
Psaki later told Fox News the admission from Peskov was 'interesting', noting Russia 'rarely... acknowledge from the Russian leadership any elements of weakness or any elements of defeat'.
The press secretary continued: "And while we need to continue to stay at it and getting Ukrainians exactly what they need, the military equipment they need, rallying the world to do that as this war continues, it is also significant that the Ukrainians have essentially won the battle of Kyiv."
Ukraine announced on 2 April its troops had regained control of all areas of Kyiv, including more than 30 towns and villages, after five weeks of fighting in the capital region. In a post on Facebook, Ukraine's Deputy Defence Minister Hanna Malyar wrote: "The whole Kyiv region is liberated from the invader."
Psaki told Fox News Ukrainians had succeeded in protecting their city, saying: "They've protected their city and that is because of their bravery, their courage, but it is also because of the supplies, the military equipment, everything – we've expedited $1.7 billion worth from the United States, and a commitment and dedication of the American people to this war."
"So – but yes, it was significant, we noted that," she continued. "For a government that is known for their use of propaganda, I've been a victim of that myself – the acknowledgments of weakness here, the acknowledgment of losses is certainly a reflection of the power and the courage of the Ukrainian people and leaders," Psaki added.
Though troops have withdrawn from Kyiv, Russia has continued shelling targets in eastern Ukraine. The governor of Luhansk, Serhiy Gaidai, has urged residents in the city to evacuate as conflict in the region intensifies.
Addressing the public via a televised speech, cited by The Guardian, Gaidai said: "They [Russia] are amassing forces for an offensive and we see the number of shellings has increased."
Psaki has assured the US is 'assessing' and 'reviewing' requests from the Ukrainian military and Ukrainian leadership daily, saying it will work with allies and partners to equip Ukrainian troops on the battlefield and 'continue the success'.
If you would like to donate to the Red Cross Emergency Appeal, which will help provide food, medicines and basic medical supplies, shelter and water to those in Ukraine, click here for more information.