Despite multiple investigations seemingly mounting against Donald Trump, it is still considered extremely unlikely he will end up in jail – or even in court.
The former president of the United States is currently facing several investigations with possible (but unlikely) criminal charges.
But if proceedings don't go his way, insiders say it could be arch nemesis Joe Biden who gets him off the hook...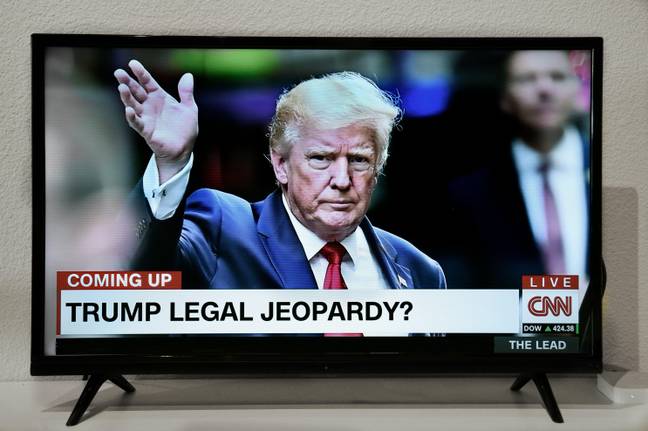 The January 6 Committee is currently investigating Trump's role in the infamous insurrection on Capitol Hill in 2021. Another arm of that same investigation is examining alleged attempts to overturn the 2020 presidential election result (Trump's chief surrogate, Rudy Giuliani, is thought to be the main focus of the investigation as he was the public face of the legal challenge).
Meanwhile, an investigation is ongoing in Georgia, where Trump told Republican Secretary of State Brad Raffensperger he needed to 'find 11,780 votes' – the exact number he'd need to carry the state against Joe Biden in the election.
There are also two investigations in New York, but neither is criminal. Both focus on Trump organisations and their use of finances, with company CFO Allen Weisselberg pleading guilty to 15 counts of tax fraud after he was indicted in July last year.
But the case that is really dominating the news is the Mar-a-Lago raid by the FBI. It's the most significant regarding possible implications for the former leader but also incredibly tricky to handle for the Department of Justice and Attorney General Merrick Garland.
We know little about what was seized, but certain documents were considered classified and top secret. It was reported recently that some documents taken were nuclear secrets from an unnamed foreign nation.
And floating the idea of a possible pardon from Biden, former FBI agent Asha Rangappa said: "My 100 percent is really that there is no way that a former POTUS is going to spend time in jail, or that Biden (or any normal POTUS) would allow that."
So what about Trump's chances of returning to the White House?
Despite Trump's repeated hints that he'll run again, a possible contender has emerged for the Republican party leadership – Florida governor Ron DeSantis. The popular conservative has proved adept at capitalising on the 'culture war' talking points that Trump's base appears to respond to.
One top Democrat in Florida likened the state under his leadership to The Handmaid's Tale, saying: "We can't allow Commander DeSantis and Aunt Jeanette to continue down the path of turning Florida into a mini Gilead."
Despite this, The New York Times has suggested 44-year-old DeSantis could be 'the future of the Republican party' as they spoke to people in his inner circle on his chances of running to be the next president of the United States of America.
Meanwhile, former Trump Attorney General Bill Barr is on the record saying he thinks DeSantis will be the next president. He told Bari Weiss on her podcast Honestly if he 'had to bet' who'd be elected president in 2024, he'd pick Ron DeSantis.
There are other possible candidates for Republicans in what's likely to be a crowded field; Senator Tom Cotton, former Vice President Mike Pence and former UN ambassador Nikki Haley, to name just a few.
But tellingly, DeSantis is the only one that appears to worry Trump. After Fox News failed to show a Trump rally and instead interviewed DeSantis this summer, Trump lashed out at the network and later accused DeSantis of 'stealing my bit', saying that he steals his gestures when giving speeches. He also allegedly called him 'charisma-free'.
A YouGov poll has DeSantis faring better than Trump in a hypothetical match-up with President Biden in 2024; 39 percent of those surveyed would vote for Biden, while just 36 percent would vote for Trump. DeSantis, meanwhile, loses by just a point to Biden in the same poll – assuming he runs for a second term.
British documentary maker Alex Holder recently told UNILAD: "I think [Trump] will declare that he's running [but] I don't think he'll end up running.
"My reasoning for that is over the course of Donald Trump's life, when he fails, he pivots to something else. He doesn't normally do the same thing again."