YouTuber arrested after eating bat soup on video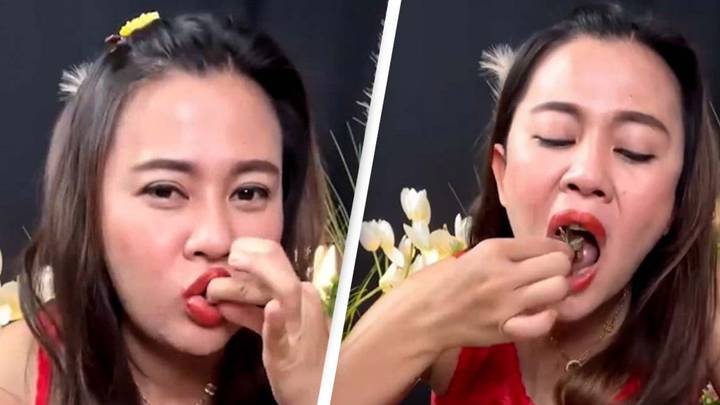 Featured Image Credit: ViralPress
Warning: Article contains content some readers may find upsetting
A Thai YouTuber has been arrested after filming herself eating a bowl of soup made with a protected species of bat.
Teacher Phonchanok Srisunaklua, whose YouTube channel is called Gin Zap Bep Nua Nua - which translates to 'Eat spicy and delicious' - sparked outrage last week after she uploaded the video of herself digging in to the large bowl of soup.
There are countless channels out there dedicated to food and eating, but the fury over Phonchanok's video wasn't about the dark brown broth or the tomatoes floating in it - it was about the Lesser Asiatic yellow bats in the bowl.
The YouTuber purchased the bats at a market near the Laos border in northern Thailand; the same region which is home to bats infected with the closest relative to Sars-Cov-2, which sparked the coronavirus pandemic.
As if simply having the bats in the soup wasn't enough, Phonchanok filmed herself tearing the animals apart and dipping them in a sauce, describing them as 'delicious'.
She displayed the bat to the camera, pointing out its teeth, and crunched down on the 'soft bones' - much to the horror of viewers who have slammed her for putting herself 'at risk'.
"I'm so angry," one viewer wrote, while another commented: "Seeing the clip makes me nauseous."
The footage has since been deleted from the original page, and Phonchanok has been arrested over the clip for violating the Wildlife Conservation and Protection Act.
She now faces up to five years in prison, or a 500,000 baht (almost £12,000) fine.
Pattaraphon Manee-on, head of the wildlife health management group at the Department of National Parks, Wildlife and Plant Conservation, said they were 'shocked' to see the bat in the clip.
"The incident should not happen both in Thailand and around the world, it is very risky behaviour, especially as bats have a lot of pathogens," they continued.
Prof Eddie Holmes, a virologist at the Sydney Institute for Infectious Diseases, stressed that 'bats carry a very large number of viruses'.
Speaking to The Telegraph, Holmes continued: "Most of those won't be able to replicate it human cells, but perhaps some can, and perhaps some of those could cause human disease.
"We know that viruses spillover from wildlife to humans all the time, and this is what drives epidemics and pandemics. We need to do as much as we can to physically distance ourselves from wildlife."
In the wake of the backlash, Phonchanok apologised for the video and said she will not eat the mammals again.