World's first wind-powered cargo ship sets sail with groundbreaking giant metal 'wings'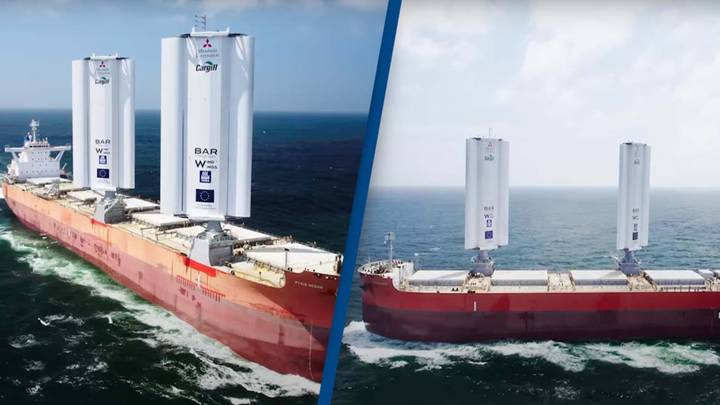 Featured Image Credit: YouTube/BAR Technologies
The world's first wind-powered cargo ship has set off on her maiden voyage, using her giant metal 'wings' to fly through the ocean.
The WindWings have been fitted onto Mitsubishi-owned Pyxis Ocean - chartered by Cargill - and was designed by a team of British Olympic sailors.
It's been built by Yara Marine Tech, and the WindWings are expected to save up to 30 percent of shipping fuel on average.
Although the WindWing sails work alongside the engine, there is an expectation from previous tests that the bulk carrier will also able to sail on wind power alone, reaching more than five and a half knots.
Pyxis Ocean left Singapore last week en route to the port of Paranagua in Brazil.
This test will determine whether the ship will last the distance. If the ship makes it all the way to the port, hundreds more will be fitted with the fibreglass aerofoils, which are 123ft above deck.
"I'm super excited about this," said Jan Dieleman, president of Cargill's Ocean transportation business. "We're finally at the point where this ship is going to be on the water.
"We need to find out if everything is going to function. Is it safe? Is it going to work? Are the wings able to move as they should, can they fold?
"Does this actually work in port and then are we actually getting the fuel savings?
"It's a huge project. This has never been done before. But you have to be willing to take some risks otherwise everything continues to be a theoretical exercise, so it's time to showcase what is possible."
He added: "Although we're trying it on a conventional one, the endgame is, of course, to somehow combine it with either low-carbon fuels, zero-carbon fuels and all kinds of other technologies.
"It is a tool in the toolbox, but it's not the silver bullet. I think it's a little bit different here because if you would do that, you would say I'm going to use the fuel differently, I'm going to just speed up, which is something that doesn't really happen.
"I think these are real fuel savings and real carbon savings. They're important today, but they're even more important tomorrow with the new fuels."
John Cooper, chief executive of BAR, added: "If international shipping is to achieve its ambition of reducing CO2 emissions, then innovation must come to the fore.
"Wind is a near-marginal, cost-free fuel and the opportunity for reducing emissions, alongside significant efficiency gains in vessel-operating costs, is substantial."