People have had their minds blown after finding out just what happens when you tick the 'I am not a robot' box when using some websites - as well as why we're sometimes instructed to click on square pictures that include features like traffic lights or fire hydrants.
While it's something we end up doing fairly regularly, most of us have no idea why or what we're doing other than the ritual serves as some sort of security measure.
However, it turns out it's a little more complex than many people might assume - as revealed in a
2020 episode of QI, where host Sandi Toksvig shared the specifics of what actually happens when you tick the 'I am not a robot' box to Alan Davies, David Mitchell, Maisie Adams and Holly Walsh. Watch her explanation here:
She said: "So ticking the box is not the point. It's how you behaved before you ticked the box that is analysed.
"So, to be honest, I can't tell you all the details because they keep it secret because they don't want people trying to cheat the test, but broadly speaking, you tick the box and it prompts the website to check your browsing history.
"So let us say, for example, before you tick the box you watched a couple of cat videos and you liked a tweet about Greta Thunberg, you checked your Gmail account before you got down to work – all of that makes them think that you must be a human.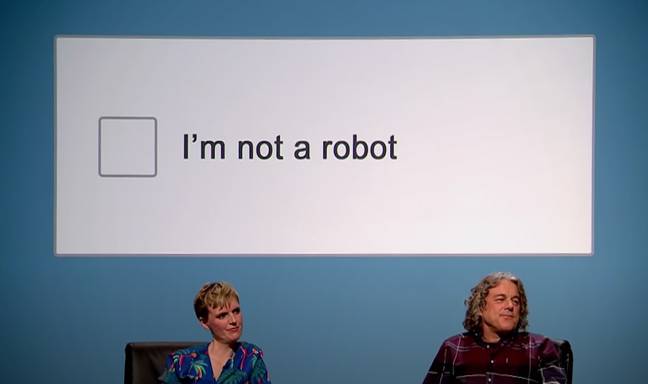 "And checking the box can even spur it to analyse the way in which you moved your mouse across screen. It's slightly spooky, I think.
"Essentially, when you are clicking 'I am not a robot' box, you are instructing the site to have a look at your data and decide for itself. If the machine is not sure, that's when it directs you to click on lightroom pictures of fire hydrants that aren't there."
The clip resurfaced after Australian radio presenters Fitzy and Wippa discussed the matter during a show, also sharing the clip on TikTok – where it racked up a whopping 3 million likes.
"Did you know this?" the post's caption read, along with three mind-blown emojis.
It turns out many people had no idea, with one TikToker commenting in shock: "WHAT?????"
Another asked: "Is this for real?"
Someone else said: "The first I hear this. Done a quick research, unfortunately appears true."
A fourth said their mind was 'blown', while a fifth added: "Feels like invasion of privacy tbh."
Others were simply in disbelief, with one saying: "What's her source?? (I don't want to believe this)."
The TikTok post clip was then re-shared on TikTok, where a whole new wave of social media users faced the same revelation.
One said: "Wait…. What? Is this legitimate?"
Another added: "So they are actually invading my privacy? Bloody hell."