Waitress fired after receiving $4,400 tip from customer
Featured Image Credit: Instagram/@rebeccasoto_legacy
A waitress has been fired after receiving a hefty $4,400 tip from a very generous customer she had been serving.
The server, Ryan Brandt, had been tending to a table of more than 40 business executives at the Arkansas restaurant when she was handed the small fortune for her service.
However, the Oven & Tap eatery has since sacked Ryan shortly after she was given the five-figure lump sum.Check it out:
While there is is currently a heated debate when it comes to tipping etiquette, I'm sure most of us can agree anywhere between the 10 to 12.5 per cent mark is usually a good place to start when unsure.
However, it's clear that this particular group of diners really took their tip to the next level, after giving the waitress thousands in cash.
The exciting moment was later uploaded to Instagram by one of the dinner's attendees, Rebecca Soto, who captioned the heartwarming clip: "I'm humbled to have been part of something so beautiful and generous. To bless someone else without previously knowing them."
She continued: "I have been blessed, so it is wonderful to pay it forward and bless someone else.
"God bless all who contributed and the servers who received it. I pray it may be multiplied and impact their life for the better."
The video shows the evening's host, Grant Wise, giving the fat stack of cash to Ryan before saying: "Everybody at this table has contributed or tipped $100 for you, and for the other waitress, who unfortunately had to go home because she wasn't feeling well.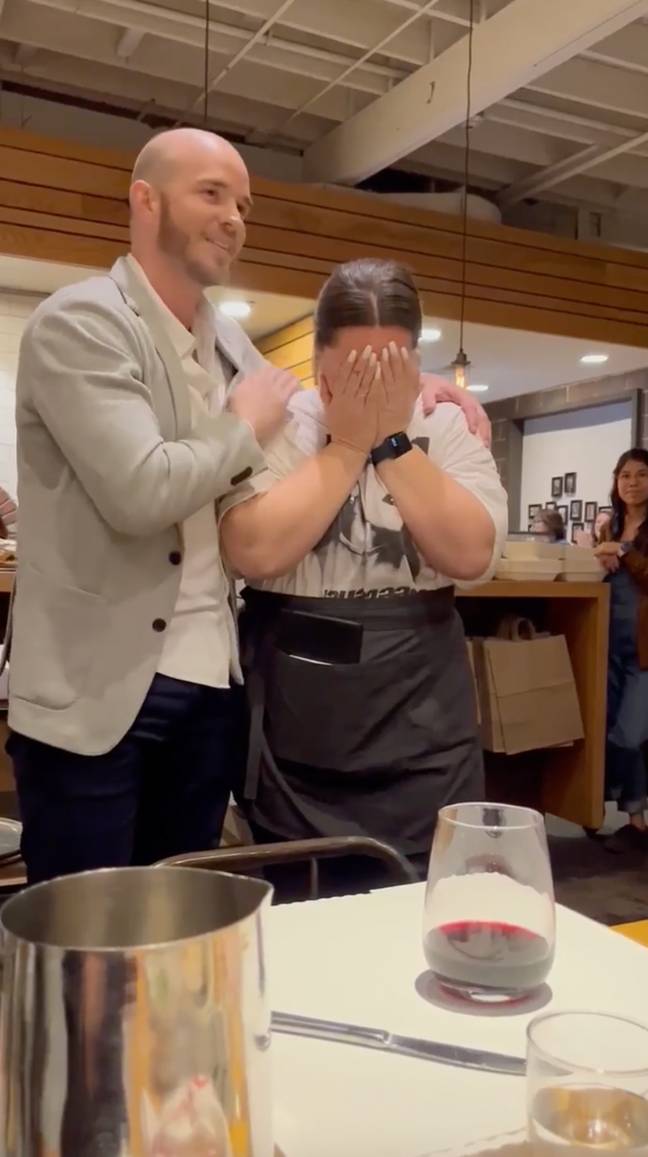 "And then we put it out to our social media channels, and we actually had quite a bit more money sent in. So we are tipping you a total of $4,400 for you to split with the other girl that took care of us."
Ryan was left in tears over the touching gesture and thanked him and the table again and again.
But it seems that the festivities only lasted so long.
After the momentous occasion, the server revealed to KNWA News: "I was told that I was going to be giving my cash over to my shift manager, and I would be taking home 20 per cent."
She also told the outlet that she had been working at Oven & Tap for over three years and was never instructed to divvy up her tips with coworkers before.
Wise soon found out about the news and allegedly asked for the money back, Distractify reports.
After getting the tip back, the diner then gave it back to Ryan but outside the premises this time to ensure she would keep every last cent of it.
However, Ryan re-entered the restaurant only to find out she had been fired for taking the money.
She told the local news station: "It was devastating.
"I borrowed a significant amount for student loans. Most of them were turned off because of the pandemic, but they're turning back on in January and that's a harsh reality."
According to Ryan, she had been fired by Oven & Tap because she 'violated its policy'.
However, it's not all doom and gloom as Wise and his colleagues then started up a GoFundMe page for Ryan and subsequently raised over $8,700 for her in just a matter of days.
The restaurant has since issued a statement on the matter which reads: "After dining, this large group of guests requested that their gratuity be given to two particular servers.
"We fully honored their request. Out of respect for our highly valued team members, we do not discuss the details surrounding the termination of an employee."
UNILAD has reached out to Oven & Tap for further comment.