Family who 'rejected $50m from developers' who built suburb around their home tell them to keep 'dreaming'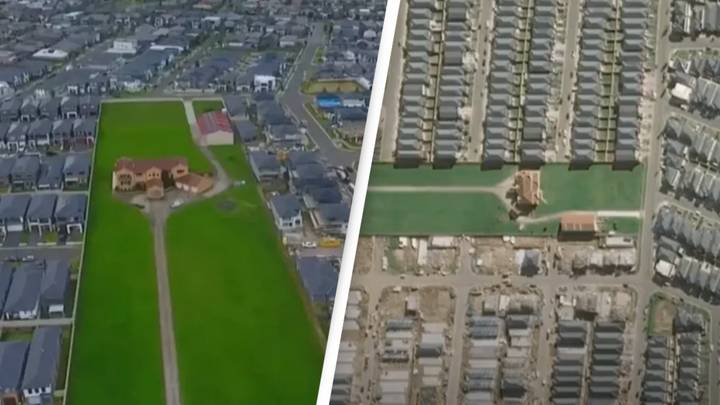 Featured Image Credit: 7News
An Australian family have spoken out after turning down repeated offers from developers to buy their home, with the land worth up to $50 million.
The Zammits have lived in their five-acre, triple garage, six-bedroom house in Quakers Hill, Sydney, for over 15 years.
While their property and land has remained pretty much the same, a lot has changed around their neighbourhood in recent years - the 'unique' homes having been knocked down by developers and replaced with row-after-row of new two-story brick houses.
It's quite the sight to see in timelapse aerial footage and photographs of the area, the Zammit family's house slowly ending up a central green block in a vast housing development site.
Mom of the family, Daiane Zammit, told Mail Online Australia: "It used to be farmland dotted with little red brick homes and cottages.
"Every home was unique, and there was so much space - but not any more. It's just not the same."
Despite this, the family have remained steadfast in their refusal of developers' offers, even despite offers reportedly having continued to rise.
Mail Online reports them having said: "Tell 'em they're dreamin."
Indeed one expert has valued the property as being worth around $40-$50 million, however, others gave a slightly lower estimate - albeit resolving it's still definitely worth upwards of $30 million.
iBuy Property Buyers Agency's Walter Nanni believes the family were probably offered between $35 to $40 million.
As a 'private' family, the Zammits haven't publicly confirmed what offers they've actually received.
If the family did decide to give in to the developers, it could be divided up into 46 or 56 lots - around 50 houses - according to Australian buyers agent Ella Cas.
And the properties could be value at around one million (US $640k) each.
Cas is 'surprised' the Zammits haven't taken up the developers on an offer.
Local real estate agent Taylor Bredin resolves to 7News: "The fact that most people sold out years and years ago, these guys have held on. All credit to them."
And a neighbour chimed: "'I'm very happy they've refused to sell - it means we have a cul-de-sac which is much safer for our kids - and their big lawn makes it feel like we've got so much space.
"Our neighbours don't get that because the other houses are so close together. We're very grateful! I hope they stay."