Prime Minister Boris Johnson has unveiled the UK's 'first barrage' of sanctions against Russia in response to President Vladimir Putin's decision to send troops into Ukraine.
In a statement made in the House of Commons, Johnson confirmed that the UK would be 'immediately' implementing economic sanctions targeting Russian economic interests in an effort to deter Putin from launching a wider invasion.
Johnson announced sanctions on five Russian banks — Rossiayaz Bank, IS Bank, General Bank, Promsvyazbank, and Black Sea Bank — and three 'high net worth' Russian individuals, freezing their assets in the UK, banning the individuals from travelling to the UK, and preventing UK entities from carrying out business dealings with the banks and individuals subject to the sanctions.
The decision to implement sanctions was made following an emergency Cobra meeting held this morning, February 22, following which Johnson said that 'all the evidence' obtained by UK intelligence suggested Putin was 'bent on a full-scale invasion of Ukraine.'
It comes after Putin on Monday ordered Russian 'peacekeeping' forces to enter two separatist-controlled regions of Ukraine, hours after formally recognising the pro-Russian Donetsk and Luhansk People's Republics as independent states.
''The deployment of [Russian] forces in sovereign Ukrainian territory amounts to a renewed invasion of the country,' Johnson said in his statement, warning that the west must 'brace itself' for the 'next steps in Putin's plan.'
Today's sanctions are being presented as a limited 'first step' in response to Putin's decision, with further measures set to be implemented should the Russian military take further action in Ukraine.
Meanwhile, the EU and the US are also set to issue Russia with their own packages of sanctions, with President Joe Biden last night issuing an executive order directing initial sanctions against Russian officials and bodies operating in Donetsk and Luhansk.
Western officials have not released specific details about what the full extent of further sanctions could look like, however the US has labelled the plans 'the mother of all sanctions', with Biden saying Russia has 'never seen sanctions like the ones I promised will be imposed'.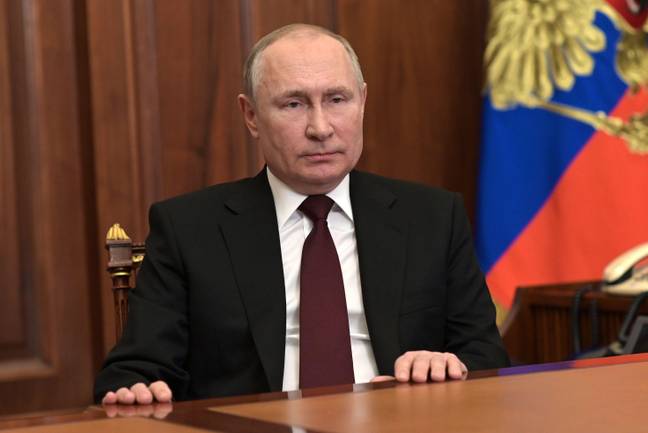 The BBC reports that among the toughest potential measures could be the exclusion of Russia from the SWIFT international banking system — a move which would effectively bar Russian banks from conducting business overseas. Associates of Putin, and the Russian leader himself, could also be hit with restrictions, while the EU is also understood to be considering curbs on Russian energy companies.
In a major development, German Chancellor Olaf Scholz announced today that the controversial $10 billion Nord Stream 2 gas pipeline between Russia and Germany would no longer be going ahead.
Western powers have threatened Russia with economic sanctions for weeks as part of diplomatic efforts to avoid war in Ukraine.
However, in a speech over the weekend, Ukrainian President Volodymyr Zelenksy criticised Ukraine's allies for failing to take further action, as he called on the US and other countries to implement pre-emptive sanctions before Russia invaded.