Scientists shocked to discover 'strange' underwater road swallowed up by the sea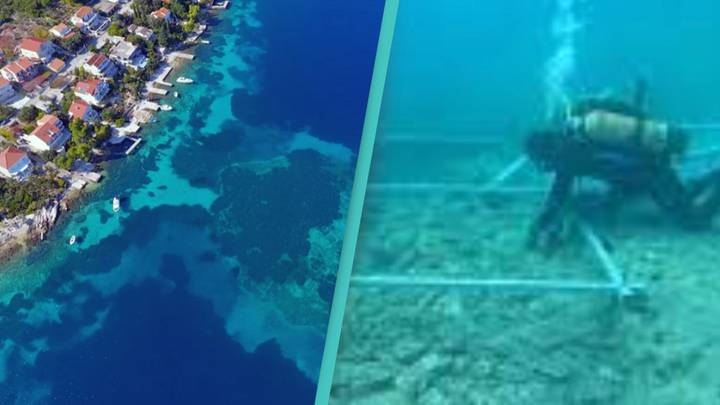 Featured Image Credit: Facebook/Sveučilište u Zadru
Scientists were totally shocked to discover a 'strange underwater road' swallowed up by the sea.
Researchers at the Archaeology Department at the University of Zadar in Croatia were left well and truly baffled after happening upon the the sunken ruins of a 7,000-year-old road that once linked an ancient artificial landmass to the island of Korčula.
The find has allowed archaeologists to understand a little bit more about the lost maritime culture referred to as the Hvar - who occupied the area during the Neolithic Era. Have a see for yourself:
The University of Zadar took to Facebook to share their miraculous discovery earlier this month (7 May).
Their statement read: "In underwater archeological explorations of the sunken neolithic locality of Soline on Korcula island, archaeologists found remains that surprised them too.
"Namely, below the deposits of sea mud, was discovered a road that connected the sunken prehistoric settlement of Hvar culture with the coast of Korčula island."
Researchers found the 'carefully stacked stone plates' that were part of the 'four-meter-wide communication' that once connected the artificially-created island with the coast.
Through using 'radiocarbon analysis', the scientists found that the entire settlement dates back to 'around 4,900 BC'.
"People walked on this communication almost 7,000 years ago," the university revealed.
And the excavations didn't stop there.
On the other side of Korčula Island, archaeologists from the university also performed land explorations near Gradina Bay, Vela Luka.
Research director, Igor Borzić, noticed 'strange structures' in the sea of the bay which prompted the archeological team to go for a dive in order to 'carry out an inspection' of the central part of Gradina bay.
The university explained the divers were met with 'delight' when they found structures at a 'depth of four to five meters' underwater in the Bay of Gradina.
Neolithic artefacts found at the historical site included 'cream blades, stone axe akti and fragments of sacrifice'.
While it may not be the lost city of Atlantis - it's for certain that the find is pretty incredible, and people couldn't wait to share their reaction to the groundbreaking discovery.
One Facebook user wrote: "This is so interesting finding these ancient settlements or cities and the learning of the people who walked those roads."
"Amazing and very exciting," commented a second while a third echoed: "Wow! Amazing!"
And a final user penned: "Stacking stones for the convenience of a road. Good for them!"