Scientists believe they are close to solving the bizarre mystery of a series of 'ghostly circles' floating in the sky.
The team of researchers originally spotted the strange formations while using the CSIRO ASKAP radio telescope in Western Australia back in 2019.
At the time, they had no idea what they were looking at, calling them 'odd radio circles' or ORCs for short.
And since then, their origin has remained a mystery.
Well, that could soon all be about to change, because new data from South Africa's MeerKAT telescope has gone some way into explaining the mystery.
According to the team behind the research, these ORCs are 'centred on a galaxy too faint to be detected earlier', and it's likely that they are simply 'enormous explosions of hot gas, about a million light-years across, emanating from the central galaxy'.
Researchers have now released a more detailed image of one of these 'floating circles', which they believe suggest they were caused by a 'shockwave'.
And writing in The Conversation about the find, Ray Norris said this was an important step in understanding the true nature of the ORCs.
He said: "For example, MeerKAT sees a small blob of radio emission in the centre of the ring, which is coincident with a distant galaxy. We are now fairly certain this galaxy generated the ORC.
"We see these central galaxies in other ORCs too, all at vast distances from Earth. We now think that these rings surround distant galaxies about a billion light-years away, which means the rings are enormous – around a million light-years across.
"From modelling the faint cloudy radio emission that MeerKAT detects within the rings, it seems the rings are the edges of a spherical shell surrounding the galaxy, like a blast wave from a giant explosion in the galaxy.
"They look like rings instead of orbs only because the sphere appears brighter at the edges where there is more material along the line of sight, much like a soap bubble."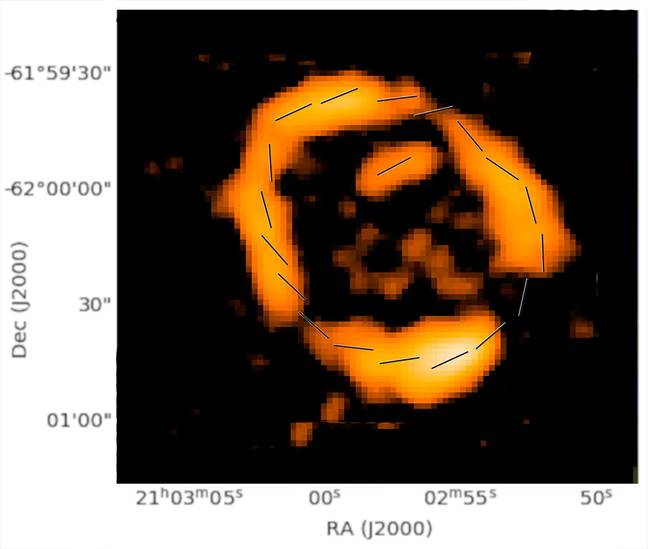 However, Mr Morris was clear to point out that the job is not done just yet.
He said more research is required in order to determine the cause of these ORCs, for which there are a number of hypotheses.
For example, he writes, perhaps they were the result of a "merger event", when two supermassive black holes came together, releasing an 'enormous amount of energy'.
Or maybe they were caused by a huge 'starburst event', during which 'millions of stars were suddenly born from the gas in the galaxy'.
The hot gas may then have been blasted across the galaxy, creating these 'ghostly' shapes.
Mr Morris adds: "The puzzle of ORCs is not solved yet, and we still have much to learn about these mysterious rings in the sky.
"So far, we have only detected them with radio telescopes – we see nothing from the rings at optical, infrared, or X-ray wavelengths."
You can read more about their research here.