Conscripted Russian soldiers are calling Ukraine's Defence Ministry asking how to surrender
Featured Image Credit: ASWphoto/Alamy Live News. Michal Kamaryt/CTK Photo/Alamy Live News
Mobilised Russian soldiers have been contacting Ukraine's Defence Ministry to ask how to surrender.
Spokesman for the Ukrainian Defence Ministry's intelligence directorate ​​Andriy Yusov revealed the Russian military has been calling a hotline set up by Ukraine security services waving the white flag, according to Pravda.
"Now there are a lot of calls to the hotline from newly mobilised Russians or even from those who have not yet been mobilised," he said during a broadcast as per the outlet.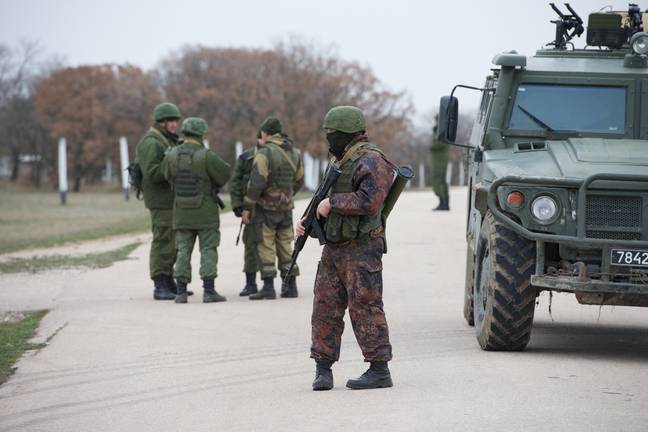 "They call and say: 'If I am mobilised, what should I do, what should I do, how should I surrender?'"
Yusov claimed that Russia is running out of men to call up in the Donetsk and Luhansk regions, as those that remain are either sick or essential workers.
Newsweek reported that the UK's ministry of defence said: "The lack of military trainers, and the haste with which Russia has started the mobilisation, suggests that many of the drafted troops will deploy to the front line with minimal relevant preparation.
"They are likely to suffer a high attrition rate."
Aljazeera also reported that the chairwoman of Russia's upper house, the Federation Council, Valentina Matviyenko said that she was aware of the mobilisation errors and that ineligible men were repeatedly being called to fight.
"Such excesses are absolutely unacceptable and I consider it absolutely right that they are triggering a sharp reaction in society," she said in a post on the Telegram messaging app, according to the outlet.
Speaker of the State Duma, Russia's lower chamber Vyacheslav Volodin also noted that 'complaints were being received'.
He added: "If a mistake is made, it is necessary to correct it… Authorities at every level should understand their responsibilities."
Among the errors was journalist Yanina Nimayeva's husband, who was asked to serve despite never training in the army, as per The Guardian.
"'Don't you have five children?' they asked him. My husband laughed and said 'yes, five kids'. 'Well, OK, expect your draft papers,'" she said.
"I understand that we have a quota. Our republic needs to gather 4,000 soldiers, but some parameters and principles of this partial mobilisation must be observed."