Russia warns world's five nuclear powers are 'on the brink of war'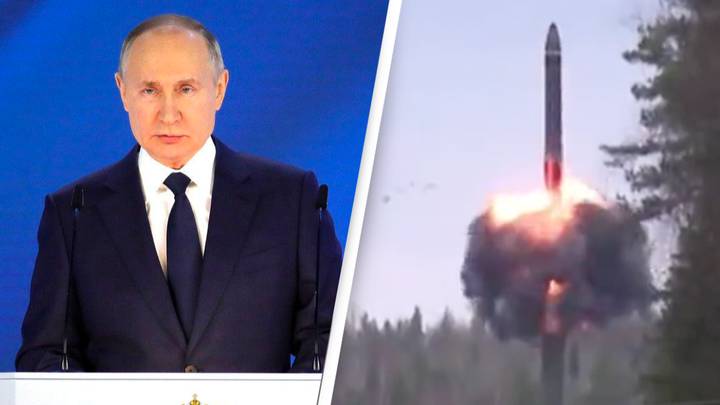 Featured Image Credit: Asar Studios / Alamy/ @in20im / Twitter
Russia has warned that the world's five nuclear powers are 'on the brink' of war.
The nation's foreign ministry said it feared the nuclear powers were 'on the brink of a direct armed conflict' and that the West must stop 'encouraging provocations with weapons of mass destruction, which can lead to catastrophic consequences'.
"We are strongly convinced that in the current complicated and turbulent situation, caused by irresponsible and impudent actions aimed at undermining our national security, the most immediate task is to avoid any military clash of nuclear powers," the ministry said in a statement, according to Reuters.
Russia added that it remained committed to a joint declaration issued in January with the other declared nuclear nations - the US, China, UK and France - which reaffirmed their commitment to averting a nuclear war.
"We fully reaffirm our commitment to the joint statement of the five nuclear-weapon states' leaders on the prevention of nuclear war and the avoidance of an arms race from Jan. 3, 2022," the ministry said.
Western officials believe Russian President Vladimir Putin has been 'weakened' by the invasion of Ukraine but the world should not expect a leadership change in Moscow 'anytime soon'.
The Russian military has suffered a series of humiliating blows on the battlefield in recent weeks, with the momentum behind Ukraine's armed forces heading into the winter.
But it comes amid concerns among some in the West that 70-year-old Putin may resort to nuclear weapons as hopes of an easy victory remain out of reach.
Western officials believe while Putin has been weakened, with reports of a growing unhappiness in relation to the conflict, there is little doubt the war will continue to drag on.
"This is going to continue to be a long, difficult bloody conflict," a western official said.
Western officials have not yet seen signs Putin has a 'plan B' as most of the wider world continues to side with Ukrainian President Volodymyr Zelensky and his government.
His 'error' in invading Ukraine has damaged the Russian leader internally, western officials suggested, with reported concerns among some elites about the impact of the war.
Russia's Defence Ministry recently reported completing a partial mobilisation of troops, ostensibly fulfilling a promise to end the call-up at 300,000 men.
A western official said of the war: "He's been weakened by this really catastrophic error."
Internally, people in Russia are 'talking more about what comes next' and are 'imagining a life beyond'.
However, officials said this is not going to happen 'anytime soon' with no 'likely prospect of change in the near future'.
At the moment, western officials believe Putin is getting 'better information' about the war than he had several months ago, but may still not be getting the 'unvarnished truth'.