Texas Safety Official Admits Police Made 'Wrong Decision' In Uvalde Massacre
Featured Image Credit: Twitter/Alamy
Police made the 'wrong decision' by not storming classrooms at Robb Elementary School sooner, the chief Texas safety official said, following the mass shooting in Uvalde earlier this week.
Steven McCraw, director of Texas Department of Public Safety, confirmed there was a 40-minute gap between the arrival of the police unit on site and the moment they entered the classroom.
In spite of 911 calls from a teacher and students inside the classrooms, McCraw said the on-scene commander considered gunman Salvador Ramos barricaded, and not in an active shooter situation.
During a press conference today, Friday 27 May, he said: "If I thought it would help, I would apologise."
According to McCraw, Ramos crashed his car near the school at about 11.30am local time and entered the building shortly after.
However, it was not until 12.51pm that the tactical unit breached the door to enter and eventually kill him.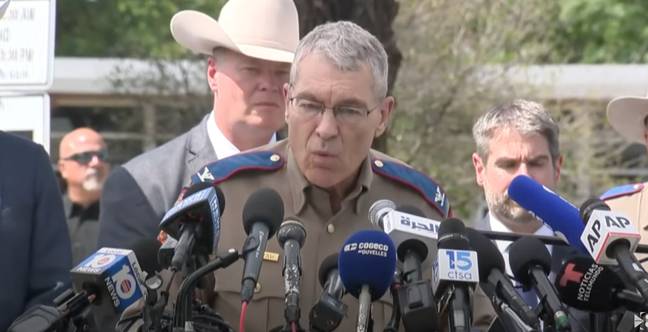 McCraw said as many as 19 police officers had gathered outside the classroom, but made no effort to get inside as they believed 'no [more] kids were at risk' by then.
They also thought 'there was time' to get the keys to the classroom from the school janitor.
McCraw said that initial reports of a school security officer first confronting Ramos before he was able to enter the school are false, adding that the officer was not on campus when the incident was first reported.
The security officer proceeded to the scene and, upon arrival, drove past the shooter and instead confronted a teacher, according to McCraw.
Ramos killed 19 children and two adults being shot dead by police, who found 1,657 rounds of ammunition in his possession.
The teen was armed with a handgun, an AR-15 semi-automatic rifle and high-capacity magazines, officials said.
In the wake of the devastating incident, US President Joe Biden has urged Americans to stand up to the gun lobby.
Giving an address, he said: "When in God's name are we going to stand up to the gun lobby? Why are we willing to live with this carnage? Why do we keep letting this happen?
"It is time to turn this pain to the action, for every parent, every citizen of this country. We have to make it clear to every elected official in this country: it's time to act. It's time for those who obstruct or delay or blocked the common sense gun laws – we need to let you know that we will not forget."
If you have experienced a bereavement and would like to speak with someone in confidence contact Cruse Bereavement Care via their national helpline on 0808 808 1677