Man arrested for doing exactly what he was told
Featured Image Credit: smooth_calamity/Reddit
Police bodycam footage captures all sorts of arrests, including one where two men ended up in handcuffs for doing exactly what officers told them.
The father and son arrested by police officers in Texas ended up in trouble despite doing everything the police told them to do.
Bodycam footage from the officers appears to show one man arrested for rolling up his car window in a way that made an officer suspicious, while the other got nicked for the truly heinous and unforgivable crime of standing on the pavement.
In the video, which was recently shared on Reddit, police pull over Dillon Puente on claims of him making an improper right turn, though the officer who goes over to Dillon's car quickly gets annoyed at the young man for seemingly rolling up his window when the cop walked up.
The encounter quickly becomes tense as Dillon rolls up his window while opening the door to step out of his car, exactly as the officer had asked him to.
At this point, and really any other point in the interaction considering he'd pulled over when the police asked him to, whether his window is rolled up or not is meaningless.
Complying with the officer's orders, young Dillon steps out of the car and does everything he's told to, including putting his hands behind his back and staying still.
The officer keeps escalating, asking Dillon 'why are you acting so suspicious' when he's putting the handcuffs on him.
He said: "You rolled your window up when I'm walking up for a routine traffic stop, 'aint nothing going on.
"You roll your window up, what does that look like to me?"
Despite following every single instruction the officers give him he still ends up arrested and in handcuffs.
While Dillon tries to explain that he was just rolling up his window, the officer is having none of it and also tells another driver coming down the road to move along.
That other driver is Marco Puente, Dillon's dad, who almost immediately gets threatened with arrest for 'blocking the road'.
Marco pulls up his car as he's told to do by the police and gets a camera on the cops arresting his son, which draws their attention.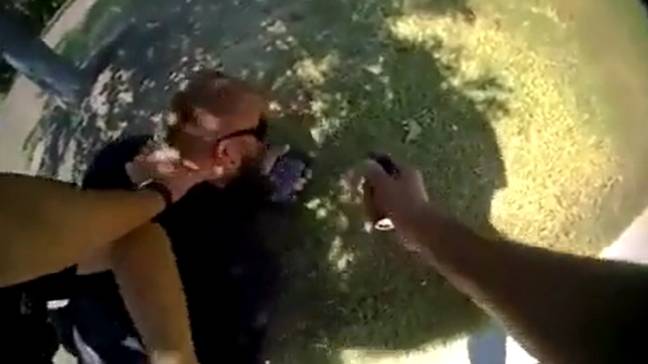 Another officer approaches Marco and goes to arrest him as he stands on the other side of the street filming the encounter, not committing any crimes whatsoever.
Police drag him to the ground and grab for his phone to stop him filming, then start pepper spraying him for the non-existent crime of standing by the side of the road.
In the end Marco sued the Texan city of Keller for the incident, and was paid out a settlement of $200,000 in compensation.
Police sergeant Blake Shimanek, the officer who pulled Dillon over and directed the arrests, had previous incidents where his conduct had been called into question.
There was a 2016 incident where he went into a home without a search warrant or permission from the homeowner, while in 2018 he said women shouldn't carry guns because they wouldn't be able to protect kids from a school shooting.
Keller Police Department chief Brad Fortune agreed with the allegation that Puente was arrested for an offence he didn't commit, Shimanek was demoted, and later resigned.