Plus-Size Model Calls Out Airline For Its Seatbelt Length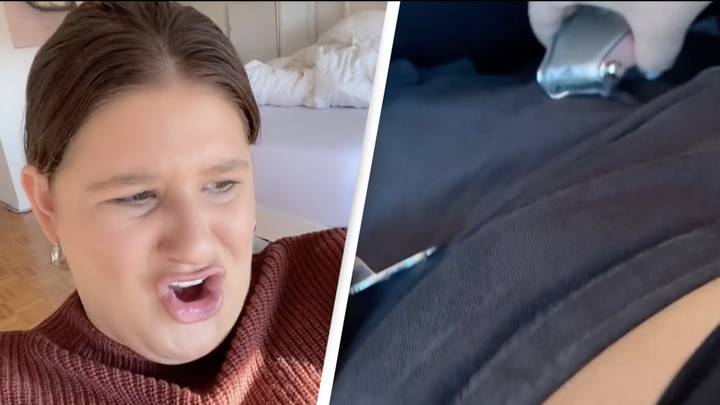 Featured Image Credit: @remibader/TikTok
Model Remi Bader has taken to TikTok to share her thoughts on Delta's one-belt-fits-all policy.
The plus-sized model and content creator shared the video to TikTok and has since amassed nearly one million views.
Bader's video was captioned 'Delta. Figure it out', with many people taking to the comments section to agree with the model.
Directing her message to the company, Bader wrote on her TikTok post: "And no I shouldn't need to ask for an extender. It should just be easy!"
Commenters were quick to share the model's sentiments, with one saying: "YES WHY IS ASKING FOR AN EXTENDER EVEN A THING JUST MAKE THE BELTS MORE ACCOMMODATING."
Another added: "Eeek. Everyone praises delta too. Being a size 14 should not warrant an extension".
One commenter suggested that there was another reason for the short seatbelt length, writing: "When the seatbelts get damaged, they trim them instead of replacing the whole thing. This is why the length is so inconsistent."
Delta's seatbelts reportedly range from 40 to 45 inches in length, which is shorter than their competitors American Airlines and Jet Blue.
Bader also made a video directed to the company in October last year. She captioned the video '@delta this is for you!' and proceeded to talk about a recent experience with the company.
"So I had a very interesting experience experience with Delta airlines the other day," the TikToker says. "Their new planes have way shorter seat belts than they did before."
The model claims she tried to put the seatbelt around her but it wouldn't go, which led to her 'freaking out' about her safety as the plane was set to take off.
Bader later said she spoke to a flight attendant about the issue, who informed her that she needed an extender, which the TikToker wasn't aware existed.
Bader went on to point out 'this is not the issue here', before proceeding to recount the messages she received from people saying that it was 'embarrassing' to be put in the position to ask for an extender.
"Just make longer seatbelts, like why is this an issue," she concluded.
A spokesperson for Delta told UNILAD: "We apologize for this customer's experience and appreciate the feedback as we continue to look for ways to create an inclusive travel experience for all. While we understand the sensitivities at play, safety remains our number one priority, and we ask that customers requiring seatbelt extenders self-identify to the flight attendants upon boarding in order to comply with the FAA requirement."