Phoebe Bridgers' post mourning 'all the lives' that were 'destroyed' during the Queen's reign divides opinion
Featured Image Credit: Doug Peters / PA Images / Alamy
People have been left divided over singer-songwriter Phoebe Bridgers' social media post in response to Queen Elizabeth II's passing.
On Thursday, 8 September, the Queen passed away at Balmoral Castle, Scotland, at the age of 96.
While many have taken to social media to mourn the loss of Her Majesty - who reigned for 70 years - others have used the moment to reflect on Britain's colonial history.
Indie rock musician Phoebe Bridgers took to Instagram to re-post a statement which addresses the Queen's reign as having 'stolen, violated and traumatised lives'.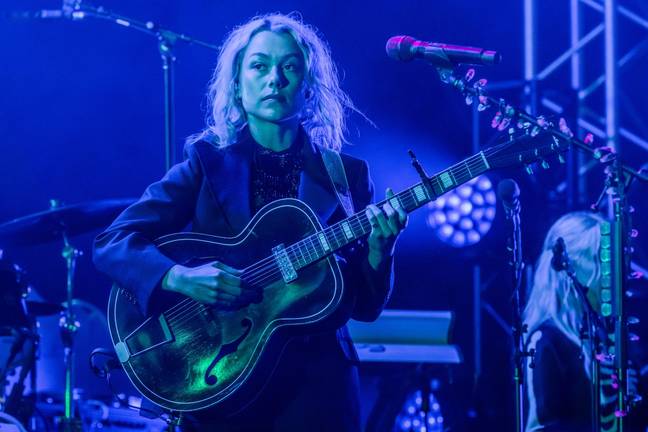 The post, originally shared by the Instagram page RISEindigenous - an Indigenous artist initiative dedicated to the amplification & evolution of Indigenous art & culture - reads: "Today we mourn all the stolen, violated, and traumatized lives who were affected and destroyed during Qween Elizabeth II's reign.
"Today is a brutal reminder that war criminals will be honored while entire populations and societies bear the battle scars of colonial genocidal violence, invasion, religious persecution, and vvhite supremacy."
Bridgers re-shared the words on her Instagram story without further comment, however her story has been met with a mixed response.
One Twitter user said: "And you wait till her death to say what you you think? How convenient..."
However, another responded: "I mean it makes sense because everyone's reacting to the death as if she did amazing things…"
A third said: "I don't care what she did. She's dead. Let her Rest In Peace. If you want to criticise her, do it while she breathing. Be respectful."
A final resolved: "Why are y'all pretending she didn't say the truth?"
as she should we stand with her

— brandon | MIDNIGHTS OCT 21 (@runingIikewater) September 9, 2022
But they wouldn't have said this when she was still breathing

— Nicki fan (BackUp) (@ridewitminaj8) September 9, 2022
she's like the most green flag celebrity ever existed and recent stuff proved me right. she doesn't hold back any words like most of them do.

— aylin🪩 (@veronicamarzs) September 9, 2022
The professor took to Twitter to state: "I heard the chief monarch of the thieving raping genocidal empire is finally dying. May her pain be excruciating.
"If anyone expects me to express anything but disdain for the monarch who supervised a government that sponsored the genocide that massacred and displaced half my family and the consequences of which those alive today are still trying to overcome, you can keep wishing upon a star."
However, the school did not comment on whether any disciplinary action would be taken, it having previously been recognised as a strong upholder of freedom of speech.