Nike's famous 'Just Do It' slogan inspired by death row inmate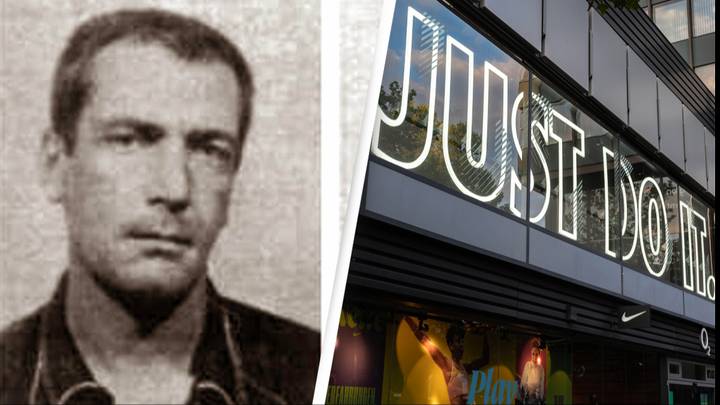 Featured Image Credit: GL Archive / Alamy Stock Photo/1take1shot / Alamy Stock Photo
Turns out Nike's iconic "Just Do It" slogan actually has quite a sinister inspiration.
While you might have assumed the iconic words were spoken by an athlete or inspirational figure, their origins are far less motivating.
It all stems from double-murderer Gary Gilmore who killed two people in Utah in 1976, having robbed and killed a gas station attendant and then a motel worker, according to US Supreme Court records.
Records show that Gilmore actually shot himself in the hand in the process, fleeing to his cousin Brenda's for medical aid, but she turned him over to police when she realised what he'd done.
Gilmore was sentenced to death in October of the same year and sent to Utah State Prison before he was put to death by firing squad.
Looking down the barrel of the proverbial and literal gun as he faced a firing squad in 1970s Utah, was asked what he last words were.
Moments before his execution, he said: "Let's do it".
Advertising executive Dan Wieden was inspired by the words and decided to change the phrase to: "Just Do It" to form the focal point of a 1988 TV commercial, which introduced the now world-famous slogan of the sportswear giant.
"None of us really paid that much attention. We thought 'Yeah. That'd work,'" he said, reminiscing about making the ad in a 2009 interview.
Wieden told filmmaker Doug Pray in his 2009 documentary Art & Copy: "I liked the 'do it' part of it."
In another interview with design website Dezeen, Wieden said: "I was trying to write something that would tie it up, so it could speak to women who had just started walking to get in shape, to people who were world-class athletes — and it had the same kind of connection with them."
The iconic slogan was debuted in a 1988 commercial about an 80-year-old runner named Walt Stack.
Sales of the brand exploded following its release.
Also speaking on the Art & Copy doc, Nike's former marketing chief, Liz Dolan said: "That was not the version I heard when I arrived at Nike.
"I'm sure they didn't want anyone to really know."
"'Just Do It' is still as relevant to us as a brand today as it was 23 years ago," vice president of global brand marketing at Nike, Davide Grasso, told Creative Review in 2011.
"It has been translated into many, many languages.
"One of my favourite examples is this one: The American Foundation for the Blind gave Nike the 1995 Access Award for its creation and distribution of a "Just Do It" poster done in braille."