NBA legend Dwyane Wade's trans daughter has been granted legal name change after court battle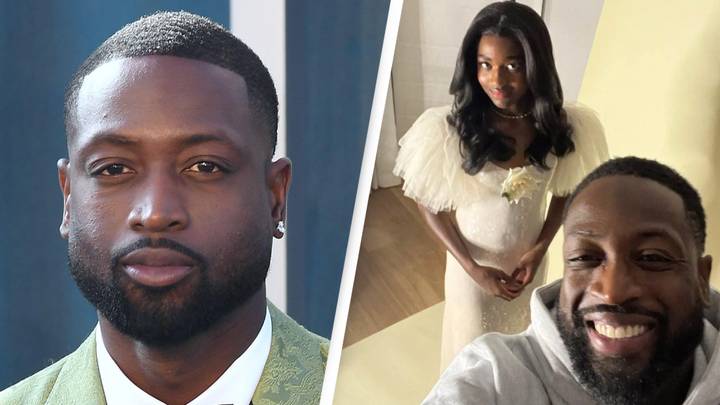 Featured Image Credit: Imagespace/Alamy Stock Photo/DwyaneWade/Instagram
The daughter of NBA legend Dwyane Wade has had her chosen name legally recognised following a court battle.
Zaya Wade came out as trans in 2019 when she was just 12 years old.
In an interview with Ellen DeGeneres, Dwyane spoke on how Zaya had been using the name for years prior to the public announcement.
Speaking in 2020, he said: "Me and my wife Gabrielle, we are proud parents of a child in the LGBT+ community and we are proud allies as well.
"We take our roles and responsibilities as parents very seriously.
"So when our child comes home with a question or an issue, it's our job as parents to listen and give them the best information we can and the best feedback we can.
"That doesn't change because sexuality is now involved in it.
"Zaya, our 12-year-old, came home… and said, 'Hey, so I want to talk to you guys. I think going forward, I'm ready to live my truth, and I want to be referenced as she/her.
"'I'd love for you guys to call me Zaya.'"
The NBA legend then spoke on how he and his wife tried to educate themselves 'to make sure we give our child the best opportunity to be her best self'.
Dwyane said this involved his wife Gabrielle Union speaking to everybody on the cast of Pose.
Since then, the family have been trying to have her name legally recognised as Zaya, something that has been years in the making.
And in court documents first obtained by People, it has been revealed that Zaya can now use her preferred name on legal documents, as well as the correct gender markers.
The process of legally changing her name hasn't been the easiest for Zaya, as Dwyane's ex-wife and Zaya's mom Siohvaughn Funches has claimed that the NBA legend is trying to 'profit' from his daughter's journey.
But Zaya's name change didn't need consent from Siohvaughn, so she was able to proceed without much of a problem.
As you'd probably expect, Dwyane was not exactly best pleased by the allegations, saying the comments put forward by his ex-wife were 'serious and harmful'.
On Instagram, he wrote: "None of us are surprised by Siohvaughn's attempt to fight Zaya's identity.
"I'm very disappointed that she continuously [finds] a way of centring herself and her needs without regard to her children.
"All I ever wanted was to have my parenting time uninterrupted, as I knew that it would be a very difficult time for our kids to navigate their new normal."