NASA confirms Earth's frontline defence against killer asteroids shooting at us from space
Featured Image Credit: Science Photo Library / Alamy. Johan Swanepoel / Alamy.
Humanity can collectively breathe a sigh of relief.
NASA has confirmed that its mission to punch an asteroid out of orbit and therefore removing Earth from potential catastrophe is possible in the wake of a string of new studies.
The good news kicked off in September when boffins from the US space agency successfully rammed a spaceship into the side of a celestial object.
The mission, known as the Double Asteroid Redirection Test (DART), was to give scientists enough data to prepare for the future.
By crashing a rocket into a 'moonlet' orbiting an asteroid called Dimorphos, NASA scientists managed to throw the rock off-course and changed its trajectory through deep space.
This could mean, one day not too far from now, humans could alter our planet's future by taking Earth out of the firing line of a giant space rock.
It is important to note that NASA projects no known risk of an asteroid seriously impacting our planet within the next 100 years, so nobody needs to panic just yet.
But as per Cristina Thomas, a planetary scientist at Northern Arizona University who led the Dimorphos study, it is better to be safe than sorry.
"People may think of the DART mission as a fairly straightforward experiment that is similar to playing billiards in space - one solid spacecraft impacts into one solid asteroid," she said, according to Vice.
"However, asteroids are far more complex than just a solid rock; in fact most asteroids are what we think of as rubble piles."
She explained: "If you hit a rubble pile with a spacecraft, a lot of material will be ejected and fly away."
But a number of variables would come into play if Earth were ever really threatened by an cataclysmic asteroid impact.
Johns Hopkins University Applied Physics Laboratory planetary scientist Terik Daly led a team of researchers to investigate a blow by blow reconstruction of DART's Dimorphos mission.
His study concluded that 'the resulting change in Dimorphos's orbit demonstrates that kinetic impactor technology is a viable technique to potentially defend Earth if necessary.'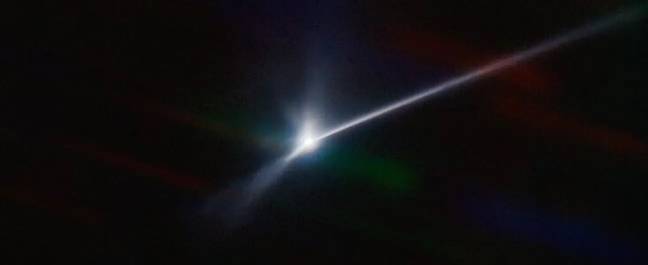 Jian-Yang Li from the Planetary Science Institute led a team of researchers using the Hubble Space Telescope to observe the aftermath of the crash,
His study provided 'a framework for understanding the fundamental mechanisms acting on asteroids disrupted by natural impact.'
Two other studies investigated the asteroid before, during, and after the impact and the recoil that affected Dimorphos all pointed to NASA's ability to alter a space rock's trajectory.
Cristina Thomas confirmed NASA's DART team was "thrilled" with the findings from its slew of studies which all point to Earth having a fighting chance when it comes to bullets flung at our planet from the stars.
"While this is only a single test on one asteroid, this result suggests that we can expect significant momentum enhancement should we need to use a kinetic impactor for asteroid deflection," she told Vice.
So what's next when it comes to protecting Earth from the great unknown? Well, Thomas had an answer.
"Next, we really need to focus on finding the currently undiscovered near-Earth asteroids," she said.
So look out, space. We're gearing up to boldly go where no man has gone before.