An American driver has been killed during a tragic explosion while travelling at 300mph in a jet truck, racing two planes, for a 'pyrotechnic' event.
Chris Darnell, 40, was taking part in the Battle Creek Air Show, based in Michigan, driving a Shockwave jet truck.
While racing two planes that were going 300mph, a terrible accident took place.
Upon releasing his parachute, Darnell's jet truck tragically exploded in flames just after 1.00pm yesterday, 2 July.
A media relations representative for Field of Flight, the air show and balloon festival set to run from 30 June to 4 July, issued a statement to the Battle Creek Enquirer.
Suze Gusching reported: "He [Darnell] was doing his show and going down the runway.
'He passed by the explosion, and his truck had exploded," she concluded.
The Battle Creek Police Department in Michigan released a series of official statements via their Facebook page yesterday, regarding the situation.
Starting off the statement with 'Major incident', the post continued: "At about 1:10 this afternoon, during the pyrotechnic portion of the Battle Creek Field of Flight Air Show and Balloon Festival at Battle Creek Executive Airport, an accident happened that has resulted in a death."
A few hours later, the police department followed up the original statement with a 'Final update for today about the air show accident'.
The update confirmed that: "Chris Darnell, 40, died today during the air show at the Battle Creek Field of Flight Air Show and Balloon Festival.
"Darnell drives the SHOCKWAVE Jet Truck during the air show; it races over 300 mph down the runway at the Battle Creek Executive Airport, where Field of Flight activities take place," the post added.
The statement concluded: "The remaining air show performances were canceled today; the air show will return on Sunday. The remaining Saturday evening activities will continue as scheduled today, as well as all activities on the schedule for July 3 and 4."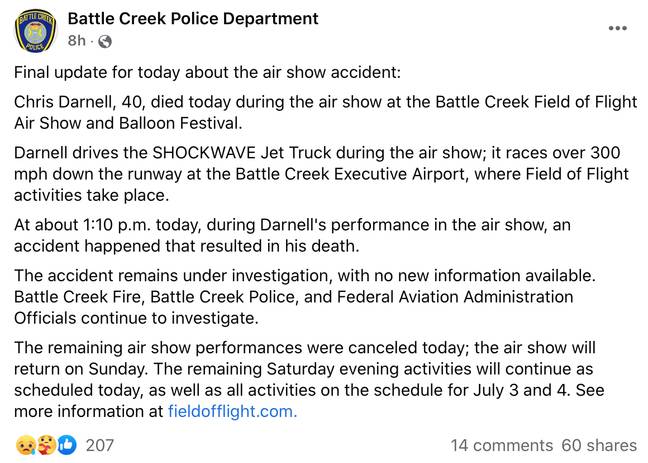 Many are sending their sentiments to Darnell and his family, offering their support and grievances.
One Facebook user wrote: "He went out doing what he loved, prayers to the family."
"Thoughts and prayers going out to his family and friends...that was a horrible crash," commented a second.
A third added: "My sincere condolences to him and his family. How tragic!"
If you have experienced a bereavement and would like to speak with someone in confidence contact Cruse Bereavement Care via their national helpline on 0808 808 1677