iPhone automatically calls police to 'worst ever car crash' in Nebraska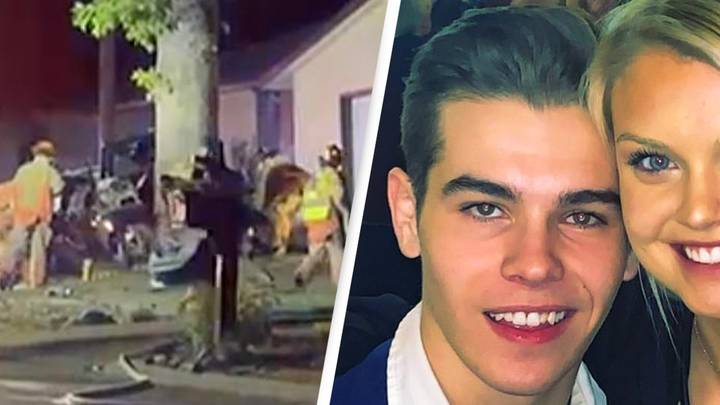 Featured Image Credit: WOWT/LinkedIn
An iPhone automatically called the police to the scene of what's been described by Lincoln authorities as the 'worst ever car crash' in recent memory.
Five men between the ages of 21 and 26 died at the scene after their Honda Accord crashed into a tree in a quiet neighbourhood near 56th and Randolph Streets just after 2:15am.
A 24-year-old female passenger was rushed to hospital by the Lincoln Fire and Rescue team but she passed away shortly after.
The Lincoln Police Department said in an update: "Sadly, the woman who was transported to the hospital has succumbed to the injuries she sustained in the crash.
"This is the worst crash in Lincoln in recent memory. Our hearts are heavy for the victims' families."
Although the passengers were unable to call police, authorities confirmed they were alerted by one of victim's iPhones.
The statement continued: "At 2:16 AM today, October 2, Lincoln Police Officers responded to a 911 call from an iPhone recording indicating the owner of the phone was in a severe crash and was not responding to their phone."
If an incident has been detected, the device will display an alert – if there's no response after 20 seconds, it automatically calls emergency services.
The system then plays an audio message informing the dispatcher that the user has been in a crash while providing latitudinal and longitudinal coordinates with an approximate search radius.
As explained by Apple, if an incident is identified, Crash Detection won't override any existing emergency calls placed by other means.
Authorities confirmed they are now investigating the collision, saying in their initial statement: "When officers arrived, they found the car, believed to be a black Honda Accord, had been eastbound near the intersection.
"Preliminarily, it appears it crossed the roadway and struck a tree in a yard on the north side of Randolph St."
They continued: "The remaining five occupants who were pronounced on scene, were men. The driver was 26 years old. One passenger was 21, one was 23 and two victims were 22 years old.
"We are working to notify the families of the deceased and request privacy for them as they grieve. We extend our condolences to their families and friends."
Lincoln Police also urged anyone with information including video evidence to call its non-emergency number 402-441-6000 or Crime Stoppers on 402-475-3600.
One of those who lost their lives in the crash is 22-year-old Jonathan Koch, whose sister Kayla Kelley has since expressed the family's heartbreak over the loss.
Speaking to local news station WOWT, she said: "He was the most caring and trusting person ever."
Koch's other sister Caleigh Keown added: "He also knew no strangers, anyone that knew Jonny knew Johnny very well
"I think he would want everyone to remember how much he cared about them, cause he was such a caring guy."
If you have experienced a bereavement and would like to speak with someone in confidence contact Cruse Bereavement Care via their national helpline on 0808 808 1677