Gwyneth Paltrow appears in court as she stands trial over 'hit and run' ski crash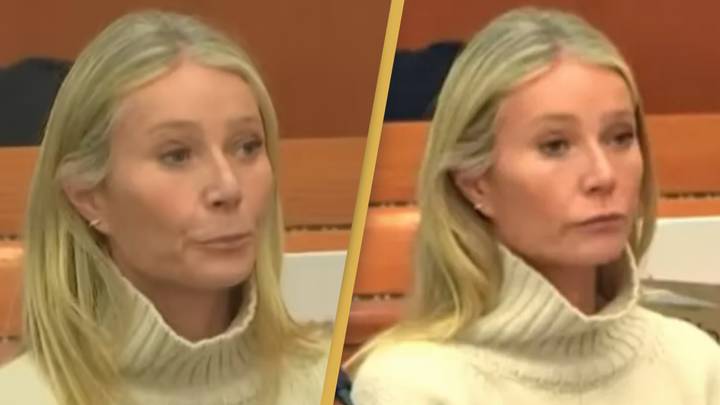 Featured Image Credit: Court TV
Gwyneth Paltrow appeared in court today (21 March) to stand trial over an alleged 'hit and run' ski accident.
The Sliding Doors actor is being sued for seriously injuring retired optometrist Terry Sanderson when she crashed into him at the Deer Valley resort in Utah back in 2016.
Sanderson claims that Paltrow's 'reckless' skiing landed him with four broken ribs and brain damage.
Paltrow, however, is counter-suing, arguing that it was Sanderson who hit into her with a 'full body blow.'
Both Paltrow and Sanderson have accused the other of being 'negligent' while skiing.
Sanderson, 76, is seeking damages of $300,000, having had a previous claim for $3.1m dropped.
In court today, Sanderson's lawyer Lawrence Buhler accused Paltrow of turning to look up at her children while skiing, arguing that the Goop founder 'knew what she was doing was dangerous'.
After hiring 'multiple instructors' at the cost of thousands of dollars, Buhler said that Paltrow had been out skiing with her two children.
"The children and their two instructors ski to the left," he told the jury.
"Ms Paltrow skis down to the right, she turns her head up to look at her children.
"As she turns her head back down she screams and skis into the back of Terry Sanderson… they hit the ground hard and Ms Paltrow bounces off Terry."
Buhler alleged that the crash caused Sanderson's body to 'smash to the ground'.
He added that, as a result of Paltrow's 'neglect and conscious choices', Sanderson had been left with 'four broken ribs and permanent brain damage'.
Sanderson's attorney then claimed that Paltrow didn't say a word to Sanderson and instead 'bolted' down the mountain.
Speaking on Sanderson's injuries after the crash, Buhler told the court that his client had displayed symptoms of a 'persistent brain injury' that would likely cause 'problems with his brain for the rest of his life'.
He added: "These problems didn't exist before the crash… and there is objective data that his ability to cope with life is diminished."
Meanwhile, Paltrow's representative Stephen Owens told the story differently.
"She's skiing, enjoying herself and suddenly she sees two skis appear between her skis and a man comes up right behind her," Owens said to the jury.
"They're not going fast… [Sanderson] comes up almost body to body and starts groaning.
"She doesn't know what's going on… she's moving forward, they begin falling to the right and she's feeling freaked out."
Owens claimed that Paltrow tried to pull away from Sanderson, which caused them to fall, but Sanderson later said 'words to the effect of "I didn't see you."'
He added: "[Sanderson] said I'm sorry - he doesn't deny saying sorry. He doesn't remember it but he doesn't deny it."
The trial is expected to last eight days.