'Disrespectful' groom sparks outrage after turning up to his own wedding in a coffin
Featured Image Credit: @tobz88/TikTok
People have been left baffled over a groom's 'disrespectful' decision to be carried down the aisle inside a coffin.
In my mind, tying the knot signifies going out and getting absolutely obliterated every weekend being replaced with more wholesome takeaway nights in watching Our Planet - which actually sounds great. But then also having someone nag you if you leave a dirty bowl next to the sink - to be honest, it really just sounds like living with my mum again.
However, without me simply being a bitter singleton, marriage is also - apparently - a wonderful, loving, joyful matrimony which many decide to enter into.
Prepare for your jaw to swing in shock:
You'd think if the groom had seen any episodes of Don't Tell the Bride, he'd know better than to pull a prank on - what is considered by many as - the best day of his and his partner's lives.
Whether this couple had the best day of their lives is certainly now up for debate.
The TikTok video - posted by @tobz88 - shows the groom 'walking' down the aisle as he is carried past all the guests in a black coffin.
It doesn't appear the groom's soon-to-be marital partner is there yet - so who knows if they knew about the coffin or not?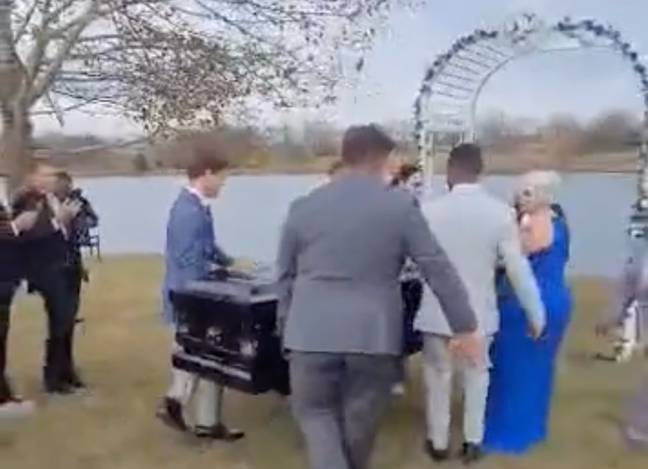 Fellow TikTokers have flooded to the video in utter shock and horror over the groom's actions.
One said: "Tell me you don't want to get married without telling me…"
"I could see if it was a Gothic wedding but it wasn't even executed nicely," another reasoned.
A third added: "We would be divorced before we said I do."
Taking to TikTok alongside his new husband, the groom has since updated social media users as to why he decided to go down the aisle in a coffin.
"The thing behind it was: Rest in peace to the old me because I wasn't a very good person in the past," he explained. "We gay as hell. There weren't no bride coming out the casket. I was in the casket, taking pictures, selfies, chilling."
The groom's partner, Jayde Wayne, admitted he hadn't known about the coffin and 'wasn't very happy about it'.
Nevertheless, the pair did get married and are 'extremely happy newlyweds'.