Ex-Felon Shares Prison Habits He Can't Shake Off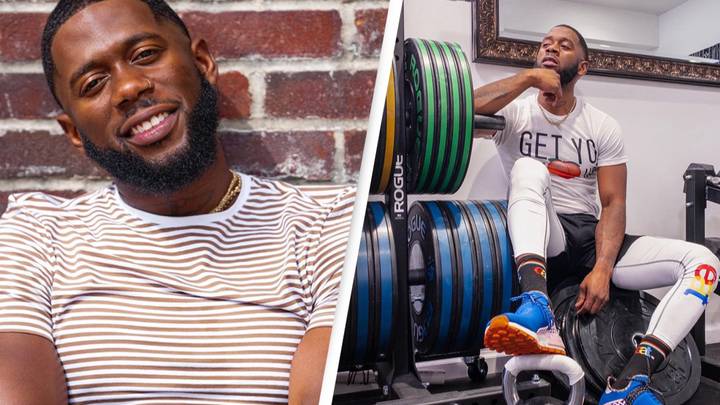 Featured Image Credit: @trellthetrainer/Instagram
A former felon has revealed some of the prison habits he cannot shake.
Dontrell Britton's life nowadays isn't what it once was. He had a rough upbringing in Washington, D.C. and his dad was murdered when he was 16.
From there, he became embroiled in a life of crime, and in 2011 was arrested as part of an FBI drugs bust. He was convicted of conspiracy to distribute heroin and crack and was incarcerated for four years.
Fast-forward to the present day and Dontrell runs his own fitness empire, with more than 333,000 followers on TikTok. But some of his old habits from behind bars have stuck with him.
Dontrell shared a couple of videos in which he highlighted the daily rituals that have stuck with him.
First off, he kneels down to pee to prevent splash-back - which I doubt many men have tried, but I bet many women would like them to.
He also gets back down on his knees to clean, because apparently mops carry a lot of germs.
Indeed, many of the habits he apparently picked up behind bars revolve around hygiene.
Dontrell explained that he always takes his shoes off at the door, because when he only had a cell to live in he was keen to keep it as clean as possible.
He makes sure his sink is always dry and clean too.
"When you share a sink and bathroom with another man, it's respectful to keep it spotless for sanitary reasons," he explained in the text.
In another clip he demonstrates the 'prison roll', which he uses to keep his clothes neat and tidy and maximise storage space.
Another daily habit that has stuck with him is a daily morning walk to clear his head - he's just swapped out the prison yard for his local neighbourhood.
To be honest, I think a lot of us have incorporated walks into our routines as a result of lockdowns, when our homes became our prisons and daily strolls became essential.
Last but not least, Dontrell said he always makes sure he wears his pants above his waistline - partly 'cause it 'just looks weird' not to, partly 'cause it's a 'form of flirting' to have them sagging.
So it seems Eminem has been flirting with us all these years - who knew?