Five Marines Killed In Aircraft Crash Identified
Featured Image Credit: US Marine Corps/KYMA News 11
The five US Marines who died earlier this week during a training exercise in California have now been named.
The MV-22B Osprey aircraft crashed in the Southern California area of Glamis, Imperial County – located a few miles north of the US-Mexico border and approximately 150 miles east of San Diego – on Wednesday, 8 June, and was described as an 'aviation mishap'.
The US Marine Corps has now released the identities of all five victims: Cpl. Nathan E. Carlson, 21, of Winnebago, Illinois, a Tiltrotor Crew Chief; Capt. Nicholas P. Losapio, 31, of Rockingham, New Hampshire, an MV-22B Pilot; Cpl. Seth D. Rasmuson, 21, of Johnson, Wyoming, a Tiltrotor Crew Chief; Capt. John J. Sax, 33, of Placer, California, an MV-22B Pilot; and Lance Cpl. Evan A. Strickland, 19, of Valencia, New Mexico, a Tiltrotor Crew Chief.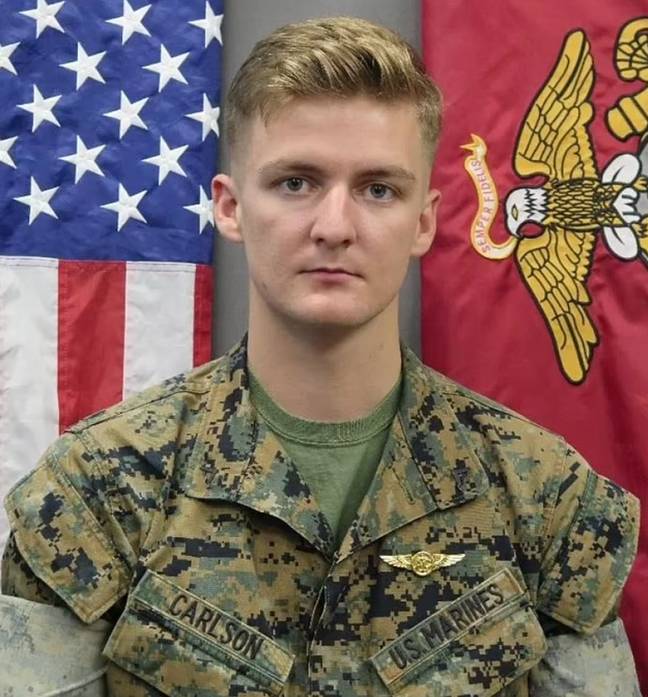 All five Marines were assigned to Marine Medium Tiltrotor (VMM) Squadron 364, Marine Aircraft Group (MAG) 39 and the 3rd MAW, and were based at Marine Corps Air Station Camp Pendleton in California.
Lt. Col. John C. Miller, Commanding Officer of VMM-364, said in a statement: "It is with heavy hearts that we mourn the loss of five Marines from the Purple Fox family.
"This is an extremely difficult time for VMM-364 and it is hard to express the impact that this loss has had on our squadron and its families. Our primary mission now is taking care of the family members of our fallen Marines and we respectfully request privacy for their families as they navigate this difficult time.
"We appreciate all the prayers and support from the strong extended Purple Fox family and want them to know that more information will be forthcoming on how to help."
Confirming the incident on 9 June, the US Marine Corps said the crash was an 'aviation mishap' in the desert area, which is known for its sand dunes and other off-road attractions.
The branch also assured there was 'no nuclear material onboard the aircraft' despite claims that had been made in initial reports, confirming it has launched an investigation into the cause of the crash.
According to The Los Angeles Times, 46 deaths related to Osprey crashes had been reported prior to Wednesday's crash, suggesting more than 50 people have now lost their lives in similar incidents.
The MV-22B can be operated as a helicopter or a turboprop aircraft, according to the US Navy, The New York Times reports.
In the US Marine Corps, it is used mainly for the 'transportation of troops, equipment and supplies from ships and land bases for combat assault and assault support'.
If you have experienced a bereavement and would like to speak with someone in confidence contact Cruse Bereavement Care via their national helpline on 0808 808 1677