Fan's proposal at baseball game goes badly wrong as he gets tackled by security
Featured Image Credit: Twitter/@Mazeaveli
Everyone loves a good proposal story, right? Well have I got one for you. It involves a man, a ring, Dodger Stadium and a security guard. I'll let the video show you what happened next:
Given that just asking someone to prom pretty much requires a whole song and dance nowadays, there's more pressure than ever when it comes to asking someone to spend the rest of their lives with you.
Of course, some people still like to keep things simple in their proposals, but others are a fan of grand gestures. And for one Dodgers fan, Opening Day for the 2023 Major League Baseball season was about as grand as you could get.
Thousands of fans were there to witness the scene, which is reported to have taken place between innings in the Dodgers' game against the Arizona Diamondbacks.
Dressed in a Mookie Betts jersey, the hopeful husband-to-be tore his way onto the outfield grass before getting down on one knee, facing in the direction of the stands.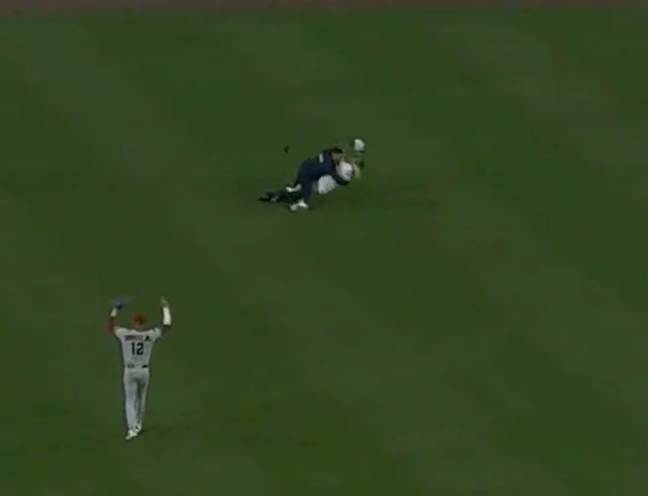 Footage filmed by onlookers shows him holding up what looked to be a ring, while members of the crowd cheered as they realised what was going on.
Even a player in the background appeared to get into the action as he pumped his arms in apparent celebration, but unfortunately security guards at the stadium weren't so keen on the gesture.
One guard sprinted across the grass towards the man, and didn't hesitate for a second before ploughing into him, knocking him to the ground.
Cheers quickly turned to calls of 'ooh' as the security guard made contact, with others soon running over to help restrain the man who just wanted to declare his love.
It's unclear exactly what happened in the immediate aftermath of the tackle, but there has been an update since the fan was reunited with his partner.
A post shared on Instagram reveals the fan sitting with his now-fiancée as she showed off her new engagement ring and grinned with delight.
Alongside the image, a caption seemingly written by the fiancée read: "Tad bit extreme [laughing face] but he's a Leo what can you expect, and of course I said YES."
The footage of the man's proposal gone wrong prompted some viewers to question whether it was 'worth it', but I'm sure the fact that the woman agreed to a lifetime together is good enough for him.
Plus, the Dodgers won their game, so it was a great night all around. Apart from the tackling, obviously.