Elon Musk warns Twitter is facing bankruptcy as chaos at company continues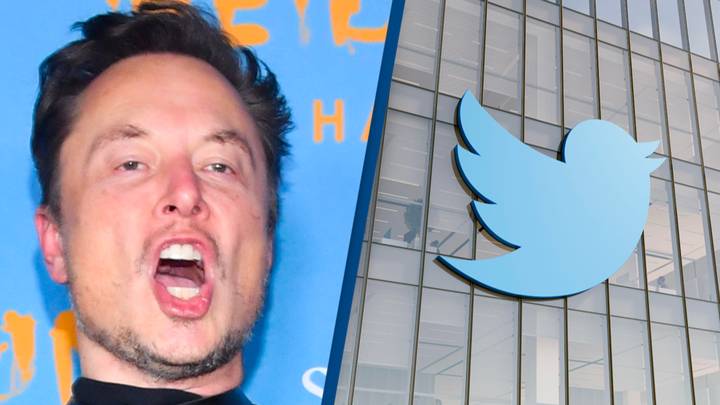 Featured Image Credit: Shutterstock/Askar Karimullin / Alamy Stock Photo
Precisely nothing seems to have gone to plan since Musk scooped up the Twitter for a cool $44 billion (£38 billion) last month, with users dipping out in eye-watering numbers after he announced new features like a paid-verification scheme not to mention mass staff layoffs.
But now Musk appears to have told staff that Twitter might actually cease to exist all together because the social media network faces potential bankruptcy.
According to The Guardian, Musk said 'bankruptcy isn't out of the question', when addressing employees for the first time this week.
The world's richest man is said to have written via email: "Without significant subscription revenue, there is a good chance Twitter will not survive the upcoming economic downturn. We need roughly half of our revenue to be subscription."
UNILAD has approached Twitter for comment.
The paper also reported that Yoel Roth - the head of safety and integrity - has also left the company, as have top security officials Damien Kieran, Marianne Fogarty and head of Lea Kissner.
What's more, Musk is reportedly putting Twitter at risk of 'billions of dollars' worth of fines, with a Twitter attorney noting that Musk's changes to the platform may have bypassed its 'standard data governance processes'.
It's also been reported that the current head of legal, Alex Spiro, has supposedly claimed that Musk is 'willing to take on a huge amount of risk' because he 'puts rockets into space, he's not afraid of the FTC'.
In a letter posted to Slack and seen by The Verge, an attorney criticised Musk for taking a huge amount of risk, noting: "Elon puts rockets into space, he's not afraid of the FTC [Federal Trade Commission]."
What's more, just days after announcing plans to cut 50 percent of his workforce, Musk told the remaining workers that he wants them to work a minimum of 40 hours in the office per week, putting an instant end to home working, according to Bloomberg.
The publication saw the email sent by Musk and reported that the Tesla CEO also said there was 'no way to sugarcoat' the difficult economic landscape they are now operating in.
In a bid to boost profit, one of the first changes Musk made at Twitter was to introduce a new, paid-for verification scheme, which will cost users wanting a coveted blue tick $7.99 (£6.84) a month.
In a statement, Twitter explained: "We're adding great new features to Twitter Blue, and have more on the way soon. Get Twitter Blue for $7.99/month if you sign up now.
"Blue checkmark: Power to the people. Your account will get a blue checkmark, just like the celebrities, companies, and politicians you already follow."
The social media platform added: "Since you're supporting Twitter in the battle against the bots, we're going to reward you with half the ads and make them twice as relevant."
Of the change, Musk himself said: "Far too many legacy 'verified' checkmarks were handed out, often arbitrarily, so in reality they are *not* verified. You can buy as many as you want right now with a Google search.
"Piggybacking off payment system plus Apple/Android is a much better way to ensure verification. As soon as we confirm it's working well in the initial set of countries and we have the translation work done, it will roll out worldwide."