El Salvador plans to open 'mega prison' after 50,000 gang members arrested
Featured Image Credit: Twitter/@salvadorchacon_
El Salvador plans to open a 'mega prison' after around 50,000 suspected gang members were arrested as part of the government's crackdown on criminal groups.
The new prison is currently under construction, with officials describing it as a necessary measure to hold the tens of thousands of inmates who've been captured in the country.
In March, President Nayib Bukele announced a state of emergency following a series of gang-related killings from powerful syndicates such as the MS-13 and Barrio 18 groups.
As part of the circumstances under the ruling, authorities are able to make arrests without warrants of people they believe to be involved in gang-related crimes such as drug trafficking, extortion and turf wars.
Police custody was increased from three to five days, while a penal code reform has meant sentencing has jumped fivefold to up to 45 years.
The state of exception has been renewed each month since March, and on Tuesday (16 August) authorities extended it once more through mid-September.
While speaking to decision-makers about the extension, Security Minister Gustavo Villatoro said, per Al Jazeera: "We have strongly impacted the terrorist structures. We have witnessed how Salvadorans were able to enjoy the safest vacations in history."
Mauricio Arriaza, director of the National Civil Police, added: "We can inform the Salvadoran people that we have already reached 50,000 recorded detentions during the period of the emergency regime."
An overwhelming majority – 66 out of an 84-seat assembly – voted in favour of the recent renewal, demonstrating the strong support for Bukele's crackdown on criminal groups in the country, which has been a focus of his since gaining power in 2019.
But since 2021, his government has ordered for prisons to be closed in urban areas in favour of rural institutes, which has caused a shortage of space for the unprecedented number of arrests.
To accommodate inmates, Bukele announced the construction of the mega prison, which he's called the Terrorism Confinement Center, in June.
Located in Tecoluca, a municipality in the heart of El Salvador, the facility will have the capacity to house 20,000 prisoners, according to El Salvador Info.
Taking to Twitter to announce the beginning of its construction, Bukele said: "I present [to you] the construction of the Terrorism Confinement Center.
"In this war against the gangs and thanks to the Exception Regime, we have arrested more than 40,000 terrorists. But there is still a long way to go."
The outlet went on to say that the prison will have eight pavilions, as well as 2,000 metres of perimeter wall with an additional electric fence.
Some have criticised the government for what they allege to be a lack of transparency over the plans, while others have said the crackdown has led to innocent people being incarcerated.
The Alliance for Peace movement said it had received 500 complaints for unmotivated arrests, while Apolonio Tobar – El Salvador's human rights ombudsman – said his office had 28 ongoing investigations into the deaths of people who died in police custody under the state of exception.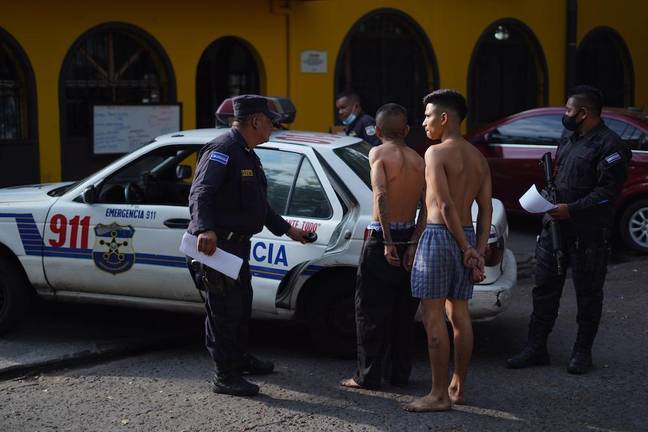 Juan Pappier, senior Americas researcher at Human Rights Watch, wrote about the situation: "Any serious initiative aimed at dismantling gangs and reducing crime needs to address the structural causes of gang membership."
He went on to say that these include the 'social marginalisation that leads youth into gangs' and the 'lack of rehabilitation programs to offer former gang members employment and education opportunities'.