Scientist breaks record for living underwater but doesn't plan on coming back up for air yet
Featured Image Credit: @drdeepsea/Instagram
A scientist who broke a record for living underwater has said he doesn't plan on returning to dry land any time soon.
The record-breaking moment happened at Jules' Undersea Lodge, a Florida Keys lodge for scuba divers, where Dr Dituri surpassed his 74th day residing in the lodge located at the bottom of a 30-foot-deep lagoon in Key Largo.
He's staying in a tiny 9m by 9m room that can only be reached by scuba diving.
Dr Dituri, who also goes by the very appropriate nickname "Dr. Deep Sea", has broken the previous record of 73 days, two hours and 34 minutes by Bruce Cantrell and Jessica Fain - two Tennessee professors who set the record the same location in 2014.
Now, Dr Dituri has set his sights on surpassing the record and he's going to be spending some more time with the deep sea fish.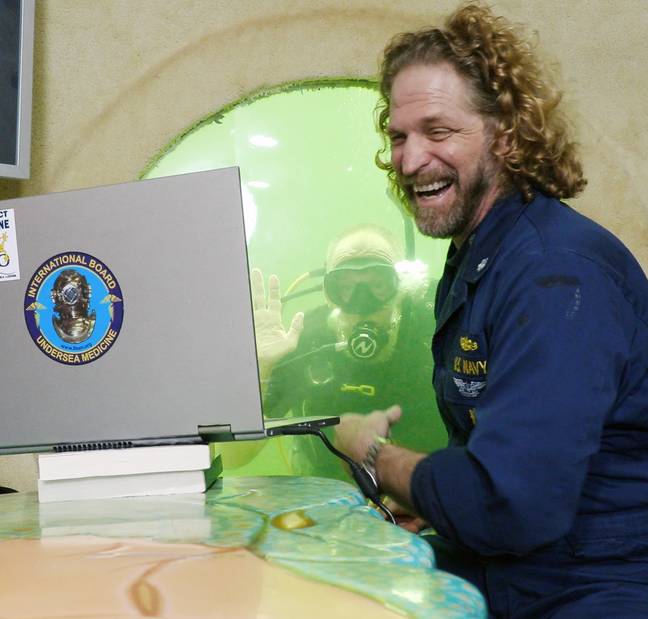 He's challenging himself to stay at the underwater lodge until June 9, the day he'll reach the incredible 100-day mark and completes an underwater mission called Project Neptune 100.
Organised by the Marine Resources Development Foundation, the mission brings together medical and ocean research plus educational outreach, which includes conducting online classes and broadcast interviews from the deep sea.
He has taught over 2,500 students over the past 74 days through online marine science classes and even more students during his regular biomedical engineering courses at the University of South Florida.
"The record is a small bump and I really appreciate it," Dr Dituri said. "I'm honored to have it, but we still have more science to do."
As part of Dr Dituri's research, he takes part in daily physiology experiments to monitor how the human body responds to long-term exposure to extreme pressure.
"The idea here is to populate the world's oceans, to take care of them by living in them and really treating them well," Dituri said.
So, what is the thing Dituri misses the most while living under water?
If you guessed the star at the center of our Solar System, you'd be correct.
He explained: "The sun has been a major factor in my life – I usually go to the gym at five and then I come back out and watch the sunrise."