Manson follower who wrote 'Helter Skelter' on wall in victim's blood denied parole
Featured Image Credit: Reed Saxon/AP/Shutterstock/ZUMA Press, Inc./Alamy Stock Photo
A member of Charles Manson's 'family' has been denied parole for her role in the killings that shook America in the summer of 1969.
Patricia Krenwinkel, now 74, was sentenced to death in 1971 for her role in the murder of actress Sharon Tate and several others, but it was reduced to life imprisonment when California law changed.
As reported by the New York Post, this is the 15th time that she has been denied parole, despite a panel advocating for her release for the first time in May of this year.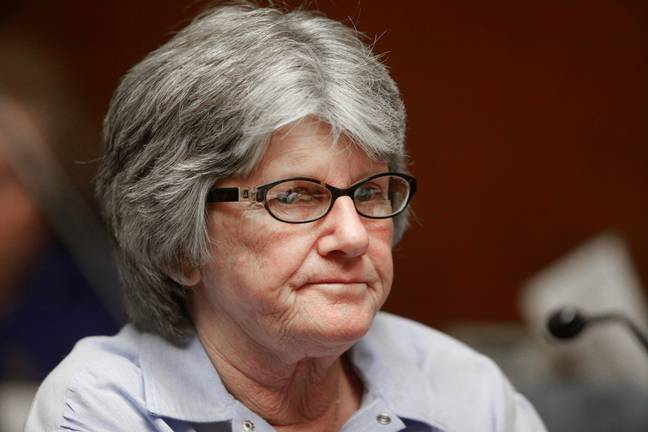 At the the time of the notorious killing spree, the then-21-year-old follower of Manson bought into his fantasies that the crimes would provoke a race war, having claimed the Beatles' song 'Helter Skelter' foretold the coming apocalypse.
Krenwinkel stabbed coffee fortune heiress Abigail Folger to death while other members of Manson's 'family', as they called themselves, murdered Tate, Jay Sebring, Wojciech Frykowski and Steven Parent.
She went on to kill again a night later, murdering Leno and Rosemary LaBianca alongside two of Manson's other followers, Tex Watson and Leslie Van Houten.
Krenwinkel - who is the longest-serving female prisoner in the US - wrote 'Helter Skelter' and 'Death to Pigs' on murder scene walls' in the victims' blood.
The recommendation for her parole was rejected by the Governor of California, Gavin Newsom.
"Ms. Krenwinkel fully accepted Mr. Manson's racist, apocalyptical ideologies," Newsom said.
"Ms. Krenwinkel was not only a victim of Mr. Manson's abuse. She was also a significant contributor to the violence and tragedy that became the Manson Family's legacy."
Defending the 74-year-old, her attorney argued that she is now a different woman from the one who was first jailed 51 years ago.
But Newsom argued that she still posed a danger to the public as her crimes were 'were among the most fear-inducing in California's history'.
"Beyond the brutal murders she committed, she played a leadership role in the cult, and an enforcer of Mr. Manson's tyranny," he said.
"She forced the other women in the cult to obey Mr. Manson, and prevented them from escaping when they tried to leave."
While Krenwinkel remained a devoted Manson follower during her trial, she later claimed to have been abused by the cult leader and said that she was under the influence of drugs at the time.
As reported by the Los Angeles Times, Newsom stressed that he took Krenwinkel's young age at the time of her crimes into consideration, as well as the progress she has made since then including her good behaviour while incarcerated, but ultimately concluded that it was not enough to grant the killer parole.
"At her parole hearing, Ms. Krenwinkel accepted responsibility for her direct crimes, yet she continued to shift disproportionate blame to Mr. Manson for decisions and conduct within her control," Newsom wrote.