Brittney Griner's Russian prison described as resembling a 'gulag labour camp'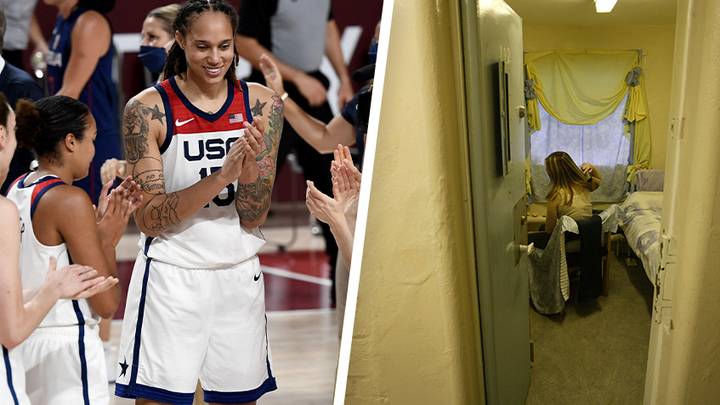 Featured Image Credit: Mike Theiler/UPI Credit: UPI/Alamy Live News. Andrew Fox / Alamy Stock Photo
WNBA champion Brittney Griner is set to serve nine years inside a Russian prison that has been described as resembling the Soviet Union's notorious 'Gulag system'.
If Griner does not win her appeal, the Phoenix Mercury star will serve at a penal colony known for its inhumane conditions.
The two-time scoring champion will likely serve at one of the 35 female prisons in Russia, where inmates are known to live among rats and diseases like Covid-19, AIDS and tuberculosis run rampant, according to Business Insider.
The news outlet says the prison is similar to a 'gulag labour camp' that was operated by the USSR.
One of the worst female correctional facilities in the country is the infamous IK-14 prison, which is located in Russia's central region of Mordovia.
Political activist and former inmate Nadezhda Tolokonnikova penned a letter to Lenta.ru in 2013 speaking about the harrowing conditions and the abuse she faced from correctional officers.
She detailed that women were forced to work up to 17 hour days with merely one day off every eight weeks.
Gelena Alekseyeva also told Radio Free Europe Radio Liberty: "Mice lived with us. Rats lived with us in the industrial zone. Before you went into the bathroom, you needed to knock -- there were special poles for that. So that the rats would scatter."
She added that cats are brought in to hunt down the rats, but as felines reproduce, security guards would discard their offspring in the cruellest way.
"They [the kittens] are collected in a sack and burned in the furnace," Alekseyeva said.
"There is nothing more dear to the inmates than these kittens and cats. But they can also be used for punishment. So, if you sewed badly today then we will burn the cats! They don't punish one or two people -- they punish a whole brigade."
On February 17, Griner was detained at a Russian airport after officials found vape cartridges containing cannabis oil in her luggage, according to ABC News.
Griner pleaded guilty to the charges while insisting that she didn't mean to bring illegal substances into the country and never intended to harm anyone.
She said before the judge: "I made an honest mistake and I hope that in your ruling, that it doesn't end my life here."
Following her sentencing, US President Joe Biden demanded the release of the Basketball star, slamming her conviction as 'unacceptable'.
The Guardian reports that the Biden administration also proposed the release of notorious Russian arms dealer Viktor Bout in exchange for the WNBA star.