Amber Heard Says Johnny Depp Believed She Was Having An Affair With Eddie Redmayne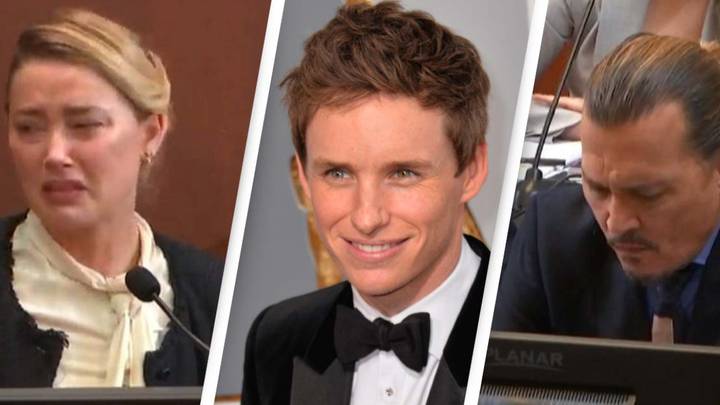 Featured Image Credit: Law and Crime Network/Shutterstock
Amber Heard continued her counter-argument to Johnny Depp's defamation claim on Thursday, testifying that the Pirates of the Caribbean star was convinced she'd slept with Eddie Redmayne.
Heard co-starred with Redmayne in 2015's The Danish Girl, in which she played Ulla Paulson.
According to Heard, Depp also accused her of having a sexual relationship with the Oscar-winning film's director, Tom Hooper.
Heard denied having an affair with either men, and after confirming the actor in question was Redmayne, further testified Depp became enraged when a telephone call to the London hotel she was staying at went unanswered.
"I got that sense that he thought I was sleeping with the director, and then it was with the actor I was filming with," said Heard, 36, according to MailOnline.
She continued: "We get into an argument. He was accusing me of [sleeping with] Eddie Redmayne. He thought I was working with Billy Bob Thornton but I'd already worked with him a year earlier. He was very upset about him."
Heard has previously said that Depp, 58, was convinced she and Thornton had an affair while filming London Fields, released in 2018, a claim both herself and Thornton have denied.
Heard took to the stand in a Virginia courtroom, where Depp's $50 million (£38m) defamation lawsuit is taking place, this week after his attorneys rested their case.
Also on Thursday, Heard told the court how she felt 'protective' over Depp's two children during their relationship, claiming that he introduced his daughter, 22-year-old Lily-Rose Depp, to marijuana when she was just 14.
Citing an argument that Heard alleged took place in November 2013, she testified that the two had clashed over Depp's daughter, who she was 'concerned' about.
Heard said: "This argument happened because I didn't agree that this gentleman - a famous musician over the age of 18 - spent the night at the house and I felt protective over Lily-Rose and concerned.
"Naturally, they were not my children, it's not my place and I understand it, I know it's a sensitive subject so I understand why Johnny got so upset with me."
She went on: "But that and the introduction of the weed with his daughter, she was so young, I felt protective. It's not my place and I made him really angry by weighing in on that.
"I started to feel very protective. Johnny's sobriety meant that he was there and then he wasn't.
"The nature of our lives with the travel and the work meant he was there and then he wasn't. She was so young, I just felt protective."
However, when testifying in his 2020 libel suit against The Sun - which he lost - Depp insisted he 'never encouraged' his then-teenage daughter to use marijuana.