A Cargo Ship Has Sunk With Efforts Under Way To Rescue 30 Crew Members
Featured Image Credit: Iran Ports & Maritime Organisation/IRNA
A rescue mission has been launched in the Persian Gulf after a cargo ship sank with 30 crew members on board.
The Emirati-flagged Al Salmy 6 got into difficulty while sailing through the gulf in poor weather, leading it to capsize, authorities said.
Efforts are currently underway to account for all crew on board the vessel, with 16 having been saved by rescuers.
A further 11 of the crew escaped the sinking vessel in lifeboats, while one was pulled from the water by a nearby tanker.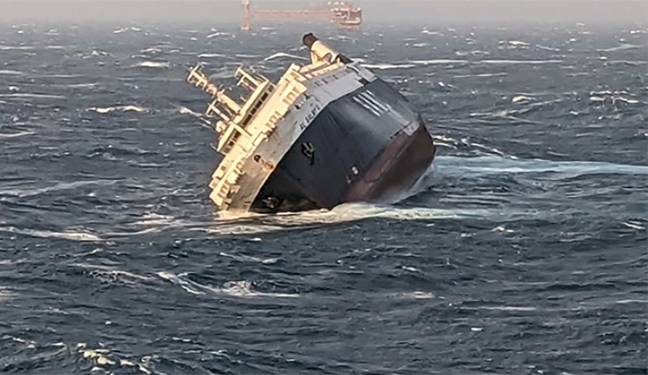 The final two crew members are still unaccounted for and are believed to be in the water, Captain Nizar Qaddoura, the operations manager of the Salem Al Makrani Cargo company which owns the sunken vessel told AP.
The Al Salmy 6 vehicle carrier had been bound for the port of Umm Qasr in Iraq, and had been carrying cars and other cargo, Qaddoura said. The ship's crew included Sudan, India, Pakistan, Uganda, Tanzania and Ethiopia nationals.
Iranian rescuers were despatched to the ship when it reported that it was capsizing some 30 miles off the coast of Asaluyeh, a port city across the Persian Gulf from Bahrain.
The country's Ports and Maritime Organisation also released an image of the capsized ship lying on its side in the Gulf. Strong winds and storms in the area were said to have hampered the efforts of rescuers in reaching the vessel.
The Persian Gulf is a major sea for international trade, with hundreds of vessels transiting the region on their way from Arab states to the rest of the world.
It remains incredibly rare for vessels to sink in the region, with today's incident coming after the Iran Meteorological Organization warned of a period of severe weather in the Gulf that was forecast to impact maritime activities and potentially damage offshore facilities.
The powerful wind gusts are set to continue to cause disruption through to the weekend in the region.
The loss of the Al Salmy 6 comes just weeks after another cargo ship carrying cars also sank after catching fire of the coast of the Azores Islands in the Atlantic.
In that incident £300 million worth of luxury cars were lost as a result of the sinking. The value of the cargo on board the Al Salmy 6 is as yet unknown.