Zac Efron and Dumb and Dumber director Peter Farrelly joining forces for new comedy
Featured Image Credit: INSTAR Images LLC / Alamy Stock Photo/Sipa US / Alamy Stock Photo
Peter Farrelly has revealed he has cast Zac Efron for his first comedy film since 2014's Dumb and Dumber To, marking his long-awaited return to the goofy R-rated movies that made him and his brother Peter Farrelly household names.
Earlier this month, Deadline reported that Farrelly was 'in talks' with Efron and John Cena for forthcoming film Ricky Stanicki, rumoured to follow in the raucous footsteps of Dumb and Dumber, There's Something About Mary and co.
The director has now confirmed to UNILAD that he is, indeed, working on a new comedy – and that he's cast a certain High School Musical star for the project.
Farrelly has already worked with Efron on his latest film, The Greatest Beer Run Ever, which follows the real-life story of a man who travels into the heart of the Vietnam war to deliver his friends cans of beer as a way of thanking them from their service, while also providing a sorely-missed taste of home.
The comedy-drama is another slightly more serious string to the filmmaker's bow, building on 2018's Academy Award-winning Green Book, and came with heftier burdens to match when it came to filming, with the college dorm mentality of his previous capers swapped for the deep jungles of South East Asia.
"We shot it in the jungles of Thailand, and it was 100 degrees, it was 100 percent humidity, bugs everywhere, mud up to here," Farrelly told us.
"But luckily we shot that in the first week, when we were all rested and ready to go. If we had ever done that in the last week, I don't know how we would have pulled it off.
"It was exhausting – we weren't getting sleep, we were getting attacked by everything... It was harder than making Dumb and Dumber, I'll say that!"
When asked if he'd ever return to the goofy style of comedy that was spawned by the 1994 flick and its sequel - and if he would hire Efron for the gig - Farrelly replied: "Well, I am doing a comedy next, and I have hired Zac."
The actor admitted he found filming in the jungle was also a struggle, remembering how it had been an assault on the senses.
"It was intense," Efron recalled.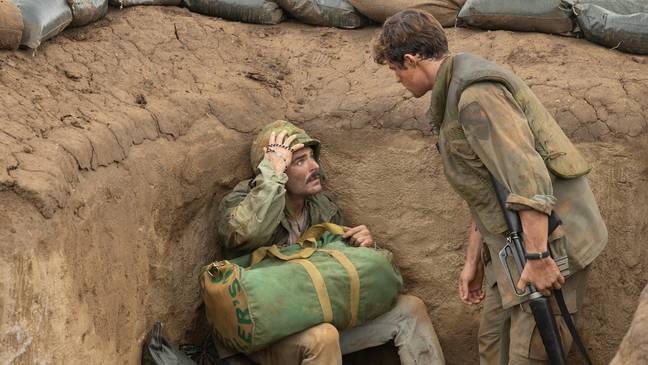 "We were battling the elements in ways that I just never anticipated. It was real, real deep jungle, deep mud. We were in trenches sometimes all night. It was extreme heat, downpours..."
Farrelly mentioned the heavy period uniforms and guns the cast had, saying: "Guys were passing out left and right. We were making sure everyone was drinking water because they were sweating so much."
Efron added: "It was next level. But you got used to it, and it was really fun... Luckily, we did shoot that at the beginning!"
The Greatest Beer Run Ever is available to watch on Apple TV+ and in selected cinemas.