Val Kilmer has revealed he 'begged' to be in the Top Gun sequel, a request that was fulfilled thanks to a recreation of his voice using AI technology.
And while it only made sense to get him back for the upcoming Top Gun: Maverick, the star struggled to convince producers to give him the role.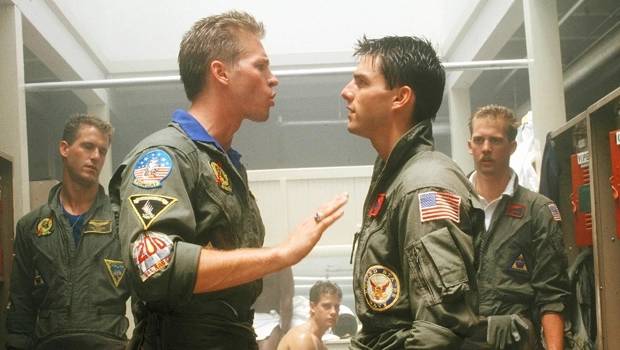 Val currently uses a voice box to communicate after undergoing a tracheostomy in order to treat his throat cancer diagnosis in 2014.
While he's been cancer-free for several years, he told the MailOnline that people 'struggle to understand him'. But the actor has since discovered a novel method of bringing his voice back and once again starring on the big screen – artificial intelligence.
Speaking about his return to the Top Gun franchise, he said: "Tom was Maverick, but Maverick's nemesis was Iceman. The two went together like salt and pepper.
"It didn't matter that the producers didn't contact me. As The Temptations sang in the heyday of Motown soul, 'Ain't too proud to beg.'"
As for the solution, Val sought the assistance of British AI company Sonantic, which used recordings from his acting career to recreate his voice.
Described as a 'Photoshop for voice', the tool is available for the actor to use for communicating in his professional and personal life.
"I'm grateful to the entire team at Sonantic who masterfully restored my voice in a way I've never imagined possible," he said. "As human beings, the ability to communicate is the core of our existence and the effects from throat cancer have made it difficult for others to understand me.
"The chance to tell my story, in a voice that feels authentic and familiar, is an incredibly special gift," added Val, who's made a name for himself in a wide variety of blockbusters over the years including Batman Forever, True Romance and The Doors.
Sonantic's CTO and co-founder John Flynn spoke to the outlet, describing how the team created more than 40 different voice models for the star, allowing them to pick out the one with the best quality and expression.
"We'd worked on the voice model and heard it so many times, but when we played it for Val and his team it was incredibly emotional for us," Flynn explained, adding that the company are used to creating voices for video game characters.
"I remember talking to Jack [Val's son] after presenting the voice model, and him telling us how powerful it was, like it was the first time he'd heard his dad's voice in years, so he was quite moved.
"Kilmer can take part in TV or film productions that require voice overs or replacement dialogue that will be created by Sonantic's easy-to-use computer app. He can license that audio to different productions and studios.
"The voice model can be used as a personalised replacement to robotic speech generating devices and help him communicate in his day-to-day life."
And this smart AI tool has allowed Val to make a brief yet impactful return as the 'Iceman' alongside Tom Cruise's Pete 'Maverick' Mitchell, with critics praising his appearance in their early reviews of the film.
Top Gun: Maverick hits cinemas on May 25.