A new series is set to explore the 'shocking truth' behind the Pentagon's earth-shattering UFO files.
In April 2020, the Pentagon declassified and released three clips of 'unidentified aerial phenomena' (UAP) – including the now-famous Gimbal footage. In January last year, as part of a COVID-19 relief bill, intelligence agencies were ordered to share everything they know about UFOs with Congress.
The resulting report, which garnered significant interest from policymakers and extraterrestrial enthusiasts across the globe, essentially didn't come to any conclusions about UAP, other than a strong belief that while it's nothing to do with aliens, it 'may pose a challenge to US national security'.
The report banded UAP incidents into five categories: airborne clutter; natural atmospheric phenomena; USG or US industry developmental programs; foreign adversary systems; and 'other', essentially a miscellaneous collective of sightings.
It divided experts, and next month, a new docuseries will dive into 'the most momentous intelligence failure of our generation', as per the show's official description.
The Pentagon UFO Files, releasing in late February, will feature some of Britain's leading UFO researchers – including Philip Mantle – discussing the leaked footage, as well as their suspicions over the US government's intentions and 'propaganda'.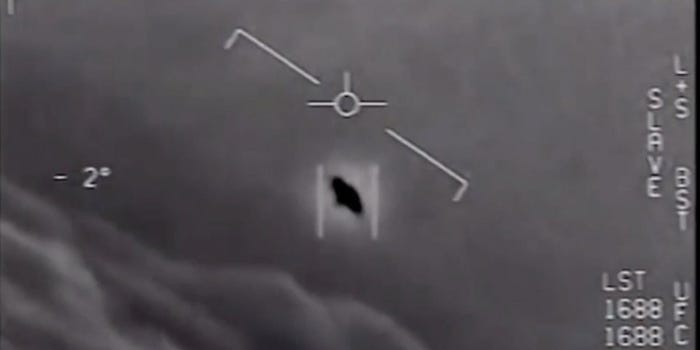 'For decades, secrets have been kept from us. Kept from us by the powers that be. After years of silence and secrecy the US government has finally revealed evidence of extra-terrestrial life which could shatter our very perception of mankind's place in the universe,' the description adds.
'Uncover the shocking truth behind the newly revealed Pentagon UFO files as we go deeper than ever before to scrutinise every detail, with in-depth analysis from scientific and military experts.'
When last year's report was first released, some experts balked at the suggestion foreign nations could be responsible for such advanced technology. 'China has well-documented issues with basic jet engines, they rely on espionage to develop their most advanced weapons systems. So, I struggle with China having developed this,' Marik Von Rennenkampff, a former Pentagon worker, told The Guardian.
'Russia has a defence budget that is a fraction of the United States', and much of its military infrastructure is crumbling so I struggle with that too. So if it is China or Russia, then that's extraordinary. I don't know how they did it, and it would be a monumental failure of intelligence collection on the part of the United States, orders of magnitude worse than 9/11.'
The Pentagon UFO Files will be available on iTunes, Amazon Prime, Google Play and Microsoft on February 22.