'I'm Just Ken' has emerged as a 'front runner' for Best Original Song at the Oscars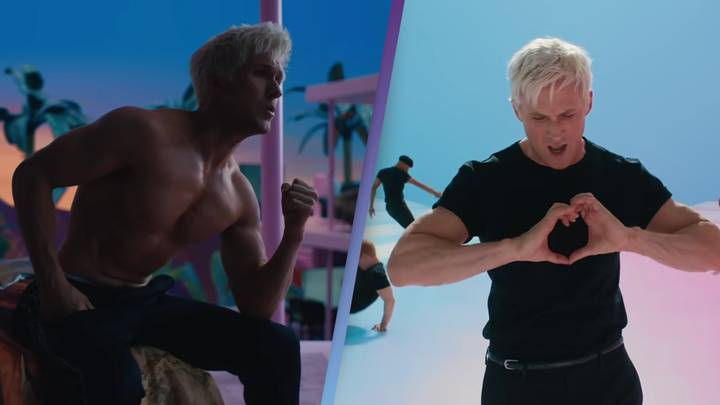 Featured Image Credit: Warner Bros.
A legendary song from the Barbie movie has been predicted to be a 'front runner' for the Academy Award for Best Original Song.
While the soundtrack from Greta Gerwig's incredible movie has loads of bops, bangers and tunes, people were absolutely raving about 'I'm Just Ken'.
Ryan Gosling's performance of the track, especially where it fits into the storyline, is nothing short of brilliant.
He sings about the difficulty of living in Barbie's shadow and how he wants to be treated as a standalone guy who is worthy of attention and love.
At the track's crescendo, he's joined by a whole host of Kens who finally feel they have the confidence to take what they want.
Billboard has listed the song as a potential candidate for an Oscar nomination.
The outlet says: "If 'I'm Just Ken' is nominated, it will be interesting to see if Ryan Gosling performs it on the Oscar telecast. He and his La La Land co-star Emma Stone opted not to perform 'City of Stars' on the telecast in 2017. John Legend, their co-star in the film, sang it instead. The song won the Oscar.
"[Mark] Ronson and [Andrew] Wyatt previously won an Oscar for co-writing 'Shallow' from A Star Is Born (along with Lady Gaga and Anthony Rossomondo)."
But that's not the only song from the Barbie movie that Billboard predicts could get some love at the Oscars.
It predicts Billie Eilish's 'What Was I Made For' could also be nominated.
Director Greta Gerwig says Eilish was invited to see a small part of the film to see if she and her producer brother Finneas would be able to make a song for the film.
Billie recalled Gerwig saying: "I don't care. Please just, if you're inspired, make something. And if you're not, that's fine. It's fine. It would be my dream."
The singer added: "And we truly sat down and Finneas started playing piano, and… those first couple lyrics, 'I used to float, now I just fall down', just came right out…'I used to know, but I'm not sure now what I was made for'."
Billboard has also suggested 'Peaches' from The Super Mario Bros. Movie, 'Road to Freedom' from Rustin, 'For the First Time' from The Little Mermaid, 'The Fire Inside' from Flamin' Hot, and a few others have the potential to be nominated.