Metallica Responds To Eddie's Master Of Puppets Scene In Stranger Things 4
Featured Image Credit: Netflix/ Alamy
**SPOILER ALERT for Stranger Things season four**
Eddie's epic guitar solo in Stranger Things has sparked a response from Metallica.
Picking up his electric guitar, plugging in the amp and joined by his ultimate fangirl and sidekick Dustin Henderson (Gaten Matarazzo), lit by a background of red lightning bolts and a thundering sky, Eddie's guitar solo is nothing short of epic. You can watch the thrilling scene below:
Metallica have since taken to its Instagram in celebration of the hit Netflix supernatural series' use of their 1986 song, posting a clip of Eddie's heroic guitar solo on Instagram.
The caption reads: "The way the Duffer brothers have incorporated music into Stranger Things has always been next level, so we were beyond psyched for them to not only include 'Master of Puppets' in the show, but to have such a pivotal scene built around it.
"We were all stoked to see the final result and when we did we were totally blown away... it's so extremely well done, so much so, that some folks were able to guess the song just by seeing a few seconds of Joseph Quinn's hands in the trailer!! How crazy cool is that?"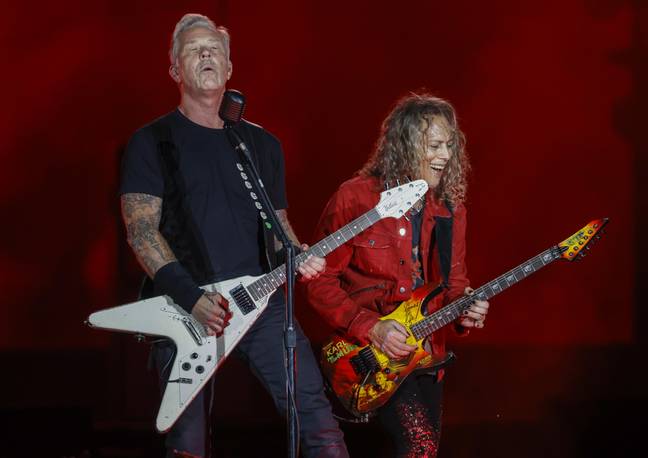 Metallica reportedly didn't take much convincing to agree to having their song used in the supernatural series as they were already fans of the show.
The Duffer brothers were absolutely set on 'Master of Puppets' for the scene and didn't consider using any other music.
The show's music supervisor Nora Felder told Variety: "It was another one of those 'it has to be this song,' moments.
"This part of the story was anticipated to be a pivotal and especially hair-raising scene in which Eddie heroically stood tall for the fight of his life.
"I believe the Duffer Brothers felt that playing 'Master of Puppets' throughout the extended scene was the clear choice. No other song was discussed further, and we jumped in to clear it straight away.
"The track was a perfect match for Eddie since it not only amplified the episode's most thrilling scene, but in some ways, aligns with Eddie's seemingly arrogant and edgy in-your-face public persona."
The band concluded in their Instagram post: "It's an incredible honour to be such a big part of Eddie's journey and to once again be keeping company with all of the other amazing artists featured in the show."
Another artist who features prominently in season four is Kate Bush.
Her 1985 release 'Running Up That Hill' is used by Max Mayfield (Sadie Sink) to try and combat the intrusive thoughts and deadly powers of Vecna.
While Bush's song is currently in top spot, many have since called for Stranger Things viewers to try and get 'Master of Puppets' to number one of the UK charts.