Marvel Fans Excited As Borat Star Maria Bakalova Announced For Key Role In New Film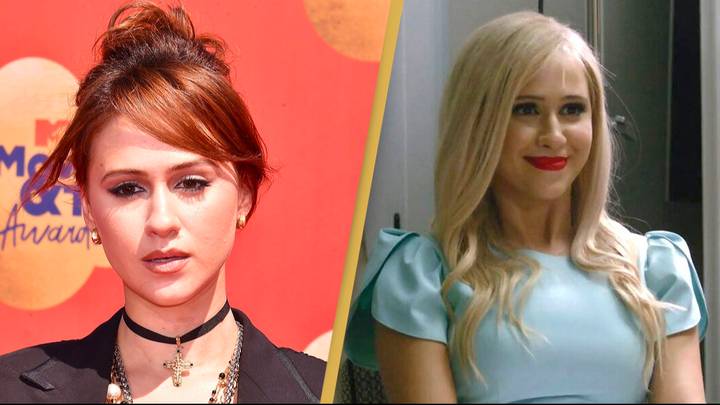 Featured Image Credit: Alamy/Amazon Prime Video
Marvel fans have welcomed the news that Maria Bakalova, the star of Borat Subsequent Moviefilm, is taking a key role in Guardians of the Galaxy Vol.3.
Having made her name as Borat's daughter in Borat Subsequent Moviefilm and received an Oscar nomination for best supporting actress for her part in the film, Bakalova has now signed onto the Marvel Cinematic Universe.
Playing what Deadline describes as a 'key role' in the next Guardians of the Galaxy film, her career appears to be going from strength to strength.
Filming on the popular Marvel movie wrapped recently and director James Gunn confirmed reports that Bakalova would be in the third and final instalment of the Guardians movies.
Describing her as 'incredible', he joked that he was surprised it took everyone so long to reveal she was going to be in the film.
Bakalova shot to fame with her performance as Tutar Sagdiyev, daughter of Sacha Baron Cohen's character Borat, and got involved in a number of stunts for the movie.
Just what this 'key role' in the MCU will be is unclear, with her part in the film still kept tight under wraps for the time being.
Bakalova is also reportedly not the 'unannounced actor' Gunn was teasing will be in the movie and neither is The Suicide Squad star Daniela Melchior, also recently announced to be in the film.
Fans rejoicing at the announcement of her casting will just have to keep guessing who this unannounced actor is and what role they might play in the movie.
What we do know is that the Guardians will be facing off against Will Poulter's Adam Warlock, a being created to destroy them by Elizabeth Debicki's Ayesha.
Guardians of the Galaxy Vol.3 is slated to be the final instalment in Gunn's series of sci-fi MCU movies which shot the lesser known Marvel characters to fame in their 2014 film.
Since then the Guardians have appeared in a 2017 sequel in addition to playing important roles in Avengers: Infinity War and Avengers: Endgame.
I LOVE this. I don't even care who she's playing. Seeing Maria Bakalova get cast in anything is good, but in a GUARDIANS movie? HELL yes. https://t.co/djzMQ7iD4s

— Adam Klay (@AKlay19) June 6, 2022
A conclusion to their trilogy might have come sooner had Gunn not been fired from production in July 2018 following controversy over tweets he had written years ago, only to be reinstated less than a year later.
The Guardians will also be appearing in the upcoming Thor: Love and Thunder film which is due to be released later this year.
Guardians of the Galaxy Vol.3 is due to release in cinemas on 5 May, 2023.