Jamie Lee Curtis talks about degendering Oscar award categories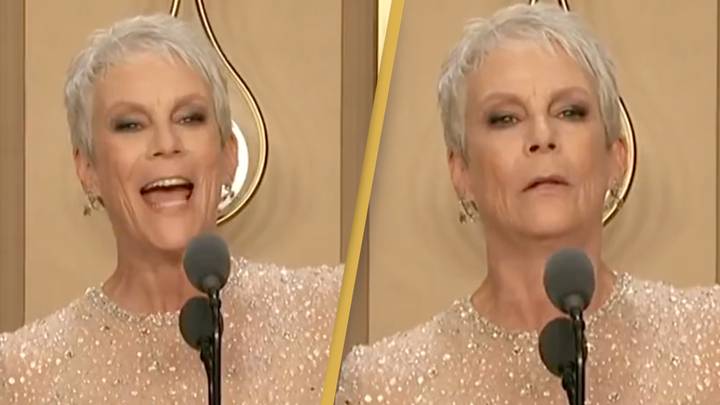 Featured Image Credit: Variety/Twitter
Jamie Lee Curtis spoke about degendering Oscar award categories after winning the honour of Best Actress in a Supporting Role at the 2023 ceremony.
The 64-year-old star took to the stage at the Dolby Theatre in Hollywood tonight (March 13) where she received the accolade for her portrayal in Everything Everywhere All at Once.
Following the landmark moment, Curtis spoke with reporters where she was asked how it felt to be one of 65 women nominated at the 95th Academy Awards.
"Surreal and proud," she replied. "And obviously I would like to see a lot more women be nominated so that there's gender parity in all the areas and all the branches.
"And I think we're getting there [but] we're not anywhere near there."
Curtis went on to highlight the need for inclusivity for non-binary and trans people within the film industry while discussing her trans daughter Ruby Guest.
She continued: "Of course, the inclusivity then involves the bigger question, which is how do you include everyone when there are binary choices?
"Which is very difficult and as the mother of a trans daughter, I completely understand that.
"And yet, to degender the category, also, I'm concerned will diminish the opportunities for more women, which is something I also have been working hard to try to promote.
"So it's a complicated question, but I think the most important thing is inclusivity."
The Halloween star finished by saying, "I mean basically just f***ing more women anywhere, anytime, all at once," a statement that garnered claps from the crowd.
Dozens of people have commented on the star's response, with one writing: "She ate with that answer ngl."
"Mad props to her bc thats an important convo," said another, while a third added, "She's such an awesome person."
A fourth chimed in: "I love Jamie Lee Curtis so much, she's such a great human."
Curtis recently opened up about her daughter's experience and the transphobia Ruby faces in an interview with Spain's Cadena SER radio.
"I have a trans daughter. There are threats against her life just [for] her existence as a human being," she said.
"There are people that want to annihilate her and people like her. The level of hatred... [It's] as if we haven't learned from fascism, [as if] we haven't learned what the result of that is: The extermination of human beings.
She added: "So Jamie Lee Curtis is scared, and you should be too. And Jamie Lee Curtis has a voice, and she's trying to use it. And you should too.
"And that's how we change things: thinking about them, learning, and then using our voices to get attention and fight them."