Indiana Jones and Dial of Destiny confirmed to be final movie in franchise
Featured Image Credit: Walt Disney Studios Motion Pictures / Paramount Pictures
Disney has confirmed that the forthcoming fifth Indiana Jones will be the final movie in the franchise, more than 40 years after it first hit screens.
Over the years, Indy's taken on everything from the Nazis and Soviet KGB agents to, um, aliens, spanning prequels, sequels and even TV spin-offs to become one of the most popular and enduring media franchises ever.
However, things are now drawing to a close with this year's fifth film, The Dial of Destiny, which Disney has confirmed will serve as the final instalment.
Leaving no room for ambiguity, a new press release from the company described the flick as 'the highly anticipated final instalment of the beloved franchise'.
Director James Mangold also said in a new statement: "My legendary collaborators and I are very excited to share a brand new and final Indiana Jones adventure with you."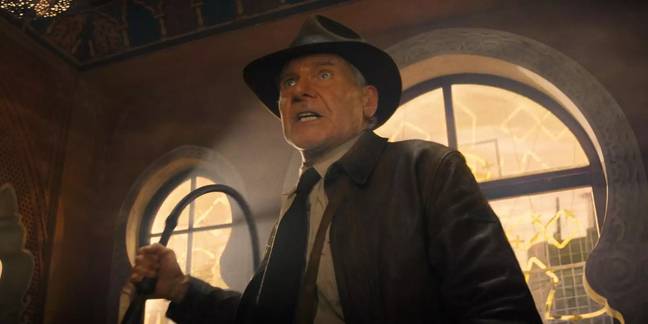 Mangold said The Dial of Destiny would debut at the Cannes Film Festival in May this year ahead of its wider release in June.
Speaking to Empire, the actor said: "I just thought it would be nice to see one where Indiana Jones was at the end of his journey. If a script came along that I felt gave me a way to extend the character."
Mangold added: "It became really important to me to figure out how to make this a movie about a hero at sunset.
"The issues I brought up about Indy's age were not things I thought were being addressed in the material being developed at the time. There were 'old' jokes, but the material itself wasn't about it.
"To me, whatever your greatest liability, you should fly straight towards that. If you try to pretend it's not there, you end up getting slings and arrows the whole way."
Lucasfilm president Kathleen Kennedy also previously said the studio would never recast the role, suggesting the franchise would wrap when Ford called it a day.
"We would never make Indiana Jones without Harrison Ford," she said.
"Having just finished the fifth movie, I can tell you, there wasn't a day I wasn't on set where I wasn't like, 'Yes - this is Indiana Jones.'"
The Dial of Destiny hits screens on 30 June.