People still can't believe all the NSFW references they snuck into Shrek
Featured Image Credit: Dreamworks
Fans can't believe all the NSFW references which movie creators snuck into Shrek.
The Dreamworks franchise is a family favourite, but it turns out the first film in the series is actually chock-a-block with sexual innuendos.
One moment which has been plastered over the metaphorical walls of TikTok is Lord Farquaad, ahem, appearing to pleasure himself to a 'mirror image' of Princess Fiona. Gross. Check out the clip below:
The scene sees the movie's villain, voiced by John Lithgow, asking his fairytale mirror to show him a picture of his soon-to-be bride Princess Fiona.
After an initial sigh, the mirror shows Fiona (voiced by Cameron Diaz) leaning outside her dragon-guarded castle.
But if you're looking closely at Lord Farquaad's sheets, you'll see a small bump appear, causing the character to blush and cover himself up.
The moment was also mentioned in a Reddit thread called: "What NSFW in TV/film/music went completely over your head when you were young?"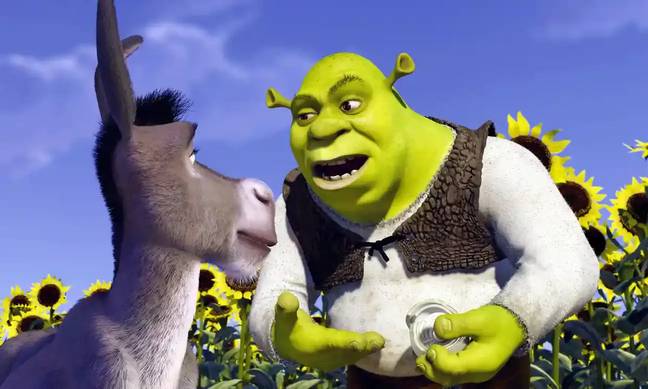 In response, one user mentioned 'Literally every gag in Shrek, particularly relating to Lord Farquaad, or rather 'Lord F**k-wad,' as another person alluded.
"The fact that his name is a joke is something that I didn't pick up on until I was in my twenties (despite having watched this film plenty of times as a teenager). I guess it's just because 'F**k-wad' isn't a phrase I'd ever heard anyone use," they recalled.
Another moment which stuck out for other commenters in the thread is the 'Fairy Godmother Song' in the movie, which sees Jennifer Saunders' character singing to Fiona in a bid to cheer her up.
They said in the thread: "In Shrek 2 the fairy godmothers song is quite rude, 'They'll write your name on the bathroom wall, for a happy ever after give Fiona a call,'" possibly alluding to the idea that the princess could be contacted by others for sex.
Others pointed out the iconic line from Shrek, "Do you think he's compensating for something?"
The main character utters the sassy phrase as he and Donkey approach Lord Farquad's castle, which is huge, perhaps showing some of the villain's insecurities.
Following over 20 years since the first film was released, Mike Myers returned as the voice of Shrek in a Netflix series titled The Pentaverate.
The film dropped on Netflix in May and saw Myers take on the role of numerous different characters with his infamous Scottish accent as a Canadian journalist tries to uncover the truth about a society of five men who have controlled the world for hundreds of years.