Will Smith Reacts To Memes Of Himself In Hilarious 'They Call Me' Video Trend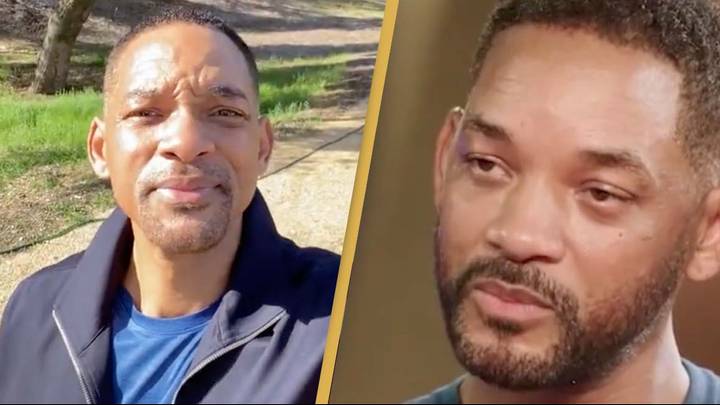 Featured Image Credit: @willsmith/TikTok
It turns out Will Smith is all too aware that he's become a meme, as he reveals some of his favourite internet jokes about himself in a new TikTok video.
The Fresh Prince himself has joined the likes of Dwayne The Rock Johnson, Alicia Silverstone and just about every other famous person on TikTok in taking part in the 'They Call Me' challenge, but his version came with a hilarious twist.
While others have used the challenge to reel through some of their most iconic roles and moments, Smith decided to open the file on some of his most memed moments, including the iconic 'crying Will' image that went viral following his heart-to-heart with wife Jada Pinkett Smith on Red Table Talk last year.
'Poor Will,' Smith captioned the classic meme, which was included a second time later in the video under the caption 'Pain.'
Other images featured by Smith in his version of the challenge include a shot of the star in The Fresh Prince of Bel-Air captioned 'Crop Top Prince,' a shot of Smith at the start of his attempt to get back in shape captioned 'Thicc Willie,' and another image showing his face photoshopped onto Dr. Phil's head, appropriately captioned 'Dr. Will.'
Unsurprisingly, Smith's take on the 'They Call Me' challenge has quickly become on of the most popular on TikTok, receiving 8.3 million views and more than 1.5 million likes from viewers who were shocked to discover that Smith was all too aware of his role as one of Hollywood's most memed celebrities.
'Guys... he found the memes,' one person commented, with another writing 'WILL!! We didn't mean for you to see some of these.'
'Why can't every celeb have your type of humour,' someone else asked, with a fourth person commenting, 'Y'all acting so surprised that he found the memes like he don't have access to the internet just like we do.'
The actor is currently generating Oscar buzz for his role as Richard Williams - the father of Serena and Venus Williams - in King Richard, but it's nice to see the notoriously busy star has clearly still got the time to poke fun at himself.
And now that Smith has confronted his own status as a meme, all that's left is for Michael Jordan to acknowledge the equally iconic 'crying Jordan' meme with his own 'They Call Me' challenge.