Tom Hanks shares his favorite alcoholic drink and it's absolutely bizarre
Featured Image Credit: Cinematic Collection/UPI/Alamy
Tom Hanks has revealed his favorite alcoholic drink, and it's a pretty bizarre cocktail featuring two ingredients that you wouldn't naturally put together.
Hanks isn't known as a big drinker, he'd probably consider himself more of a thinker, having released a load of critically acclaimed films and – more recently – his first novel.
In case you're wondering, it's called 'The Making of Another Major Motion Picture Masterpiece' and it's about making movies, so it would be fair to say that he'll have had a decent amount of personal insight into the plot.
However, when appearing on Adam Buxton's podcast to chat about the novel, he was asked what his favorite kind of alcoholic drink is.
The Forrest Gump and Castaway star revealed that his favourite drink isn't one that you'd expect to get ordered in a bar, and probably hasn't been requested too often, other than by Hanks and those who know about it.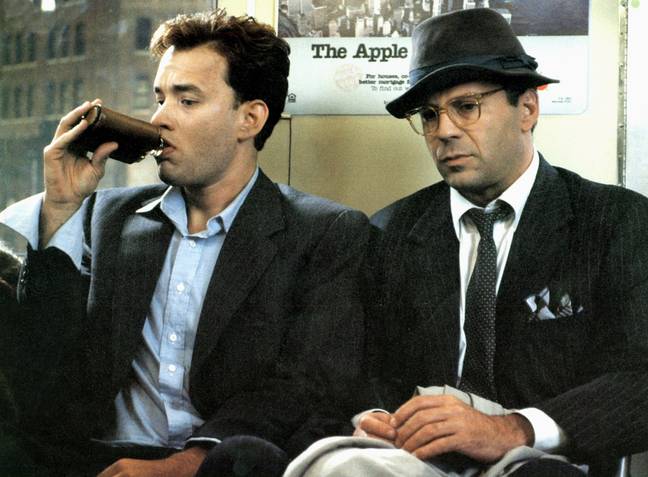 He calls it a 'Diet Cokagne', which is pronounced exactly the same as 'Diet Cocaine'.
As the cryptic crossword fans amongst you will have no doubt already surmised, the cocktail is Diet Coke with some champagne sparkling wine mixed into it.
Told you it was a strange one, didn't we?
Explaining his decision, Hanks told Buxton: "I'm not a big drinker, but of late I will have a Diet Coca-Cola with a shot of champagne in it.
"We call it a Diet Cokagne around the house.
"It came about as a joke - we were at a thing and I was having a Diet Coke and someone opened a bottle of champagne ceremoniously, and I said 'gimme a shot in my drink', and they did and I tasted it and it was kinda delicious.
"They all tasted it and they were like 'oh this is going to taste –actually – hey, this is pretty good.
"So, outside of a well-drawn beer, that is what I will have."
When pressed on the bizarre name, he said: "You've got to look at the spelling – C-O-K-A-G-N-E – that's how I spell it.
"It's a good thing for in the afternoon, like at a garden party.
"I'm gonna say, five-eighths of a glass of Diet Coke with some ice in it, then a liberal shot of champagne.
"It's for the type-two diabetics around the world."
There you have it – next time you're having a garden party or attending Cannes Film Festival, why not make yourself up a lovely Diet Cokagne?
It's probably not something you should order in a normal bar though, as they might not have heard of it and could get the wrong end of the stick.