Selma Blair urged Christina Applegate to get tested for MS after her complaint turned out to be a symptom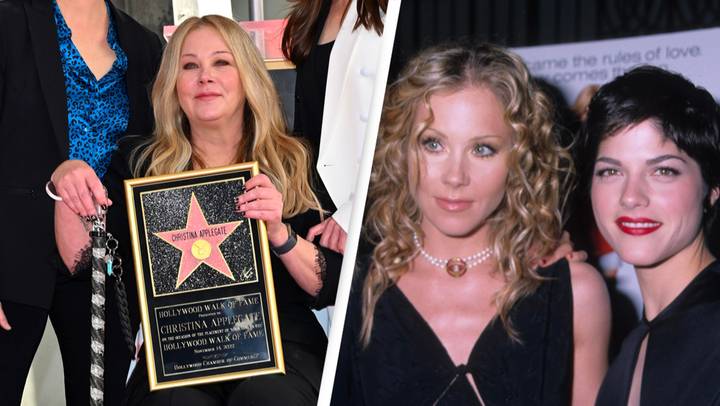 Featured Image Credit: Paul Smith / Alamy Stock Photo / ZUMA Press, Inc. / Alamy Stock Photo
Selma Blair once urged Christina Applegate to get tested for MS after her complaint turned out to be a symptom.
The pair, who previously starred in the hit rom-com The Sweetest Thing together back in the early 2000s, clearly have a friendship that's stood the test of time.
Blair, who has been living with multiple sclerosis for many decades now, was quick to persuade her former co-star to get the issue checked out and the advice has since proved to be life-changing.
Blair, famed for her iconic roles in the blockbuster bangers like Legally Blonde, Cruel Intentions and Hellboy, lived with MS for a staggering 40 years before she ever received a diagnosis and it's clear that she didn't want anyone else to go through the same experience.
The actor first revealed news of the diagnosis to her millions of Instagram followers back in 2018 and has since become one of the most well-known faces with a disability, using her platform to spread awareness and promote understanding of the condition.
Speaking to British Vogue last month (20 April), Applegate recalled the exact moment when Blair encouraged her to get tested for the disease.
She told the outlet: "I was sitting in Selma's living room, our children playing, and I told Selma I'd been having this weird tingling in my feet.
"She said, 'You must get tested for MS.' [Even my doctor doubted it] but there it was."
The Anchorman star continued: "In essence, because of her I'm going to have a better quality of life."
Applegate first went public about her experience with MS back in 2021, just a few years after Blair opened up about her own experiences with it.
Since then, the duo have each become advocates for people who are currently dealing with the disease.
Blair told the publication about how she used to conceal her symptoms before she received the full diagnosis, noting that she felt 'lost and sad' after dealing with 'self-hatred' when the cameras weren't rolling.
"I was worried since the beginning of time that a glaring fault would remove me from the workforce," she revealed.
"And usually it was my incoordination or getting stuck, too weak or sick, in my trailer - or any time, really. The vomiting or body issues were terrifying, [and the] baldness or rashes."
Blair later decided to quit acting due to the difficulty of balancing her work with her medical condition, telling the outlet that her 'autoimmune system was misfiring'.
She said: "I spent my days in bed, crying, sometimes binge drinking, sometimes reading and sleeping, seeing doctors and healers," she said.
"I gave up almost until the diagnosis. I was always terrified I would be deemed incapable. Or mentally unsound. My mother taught me that was death for a woman career-wise."
While she made the bold choice to leave the Hollywood industry, Blair has since disclosed that she hasn't entirely closed that chapter of her life.
"I haven't actively pursued work in acting ― it hasn't been the right time yet ― but it's absolutely doable for me," she explained. "I have to take the leap."