Post Malone has beautifully calm reaction as fan calls him a 'b***h' and tells him he sucks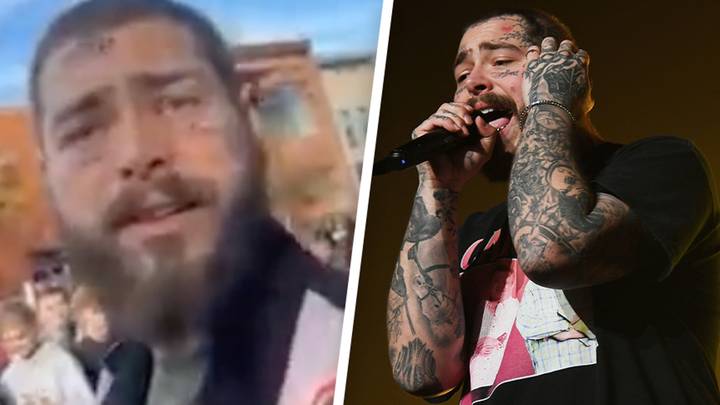 Featured Image Credit: @maxmiller9921/TikTok. Imagespace / Alamy
Post Malone had what may be the coolest and calmest reactions ever to being heckled by a fan.
The singer appeared to be meeting his loyal supporters outside of a venue when the incident occurred.
The 27-year-old, whose real name is Austin Richard Post, had a big smile on his face in the moments before a heckler began yelling abuse as he signed autographs and hung out with fans.
As Malone comprehended what was being yelled at him, the smile faded from his face.
A teen boy could be heard screaming: "Post Malone! You a b***h!"
Malone's face can be seen dropping from joyous into shocked surprise.
He stared directly at the teen and simply said: "That's rude."
The reaction seemed to only spur the troll on, with the kid laughing and repeating over and over: "You a b***h! You a b***h!"
The video has since been shared to social media, and it's pretty safe to say that people were not impressed by the heckler.
One Twitter user said: "Everything I have ever seen of Post Malone [is that] he's super positive and sweet. Why would anybody do this?"
Another added with several crying emojis: "Noooo! the way Post Malone said 'that's rude'."
A third added: "That video of that guy being mean to Post Malone just ruined my day even more. He looked so sad."
Why anyone would wait for hours to meet a celebrity just to do this is beyond me, but it's certainly not very nice.
Speaking of not very nice, fans of the rapper jumped to his defence on TikTok, with the original account that shared the video deleting it after widespread backlash.
The TikTok user shared a video afterward that read: "I had nothing to do with the Post Malone video. My friend sent me the video of him bullying Post Malone and all I did was post it. Please stop attacking me in the comments."
The person also revealed that their 'friend' is also 'sort of feeling' bad' about the altercation.
Life has been a mixed bag for Post Malone as of late, with the star injuring himself after he fell through a stage at a show in Missouri.
He was later hospitalised and was forced to cancel a show in Boston.
"I'm excited for this next chapter in my life, I'm the happiest I've ever been, and for [as long as] I can remember I was sad," he told TMZ.
"Time to take care of my body and my family and friends, and spread as much love as we can every day."