Taylor Swift sparks dating rumors with NFL player after attending game with his mom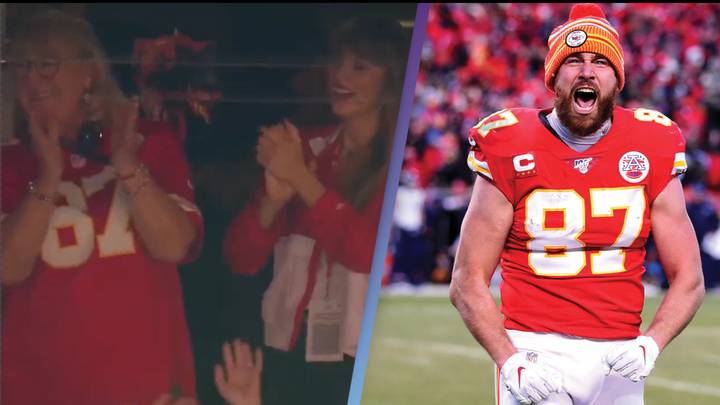 Featured Image Credit: X/Twitter/Fox Sports. Tom Pennington/Getty Images
Speculation was mounting in A-list circles last week that the pop star had started hanging out with the Kansas City Chiefs tight end.
Kelce eventually explained what was causing all the buzz when he appeared on The Pat McAfee Show.
But the friendship bracelet had his phone number attached to it, hoping she would give him a call.
He said on his New Heights podcast: "I was disappointed that she doesn't talk before or after her shows because she has to save her voice for the 44 songs that she sings, so I was a little butthurt I didn't get to hand her one of the bracelets I made for her."
But, he wasn't going to give up without a fight.
The 33-year-old said he then slid into her DMs to see if she would bite.
"I threw the ball in her court. I told her, 'I've seen you rock the stage in Arrowhead [Stadium], you might have to come see me rock the stage in Arrowhead and see which one is a little more lit," he said on The Pat McAfee Show.
"So, we'll see what happens in the near future."
Well, it didn't take long for Swift to take Kelce up on the offer as she has been seen attending the Chiefs game against the Chicago Bears.
Not only that, but the pop star was standing next to Kecle's mom Donna in a private box.
The game is still underway at the time of writing and Swift was seen laughing and chatting to Donna like they've been pals for years.
Fans could not believe how quick the turnaround has been since Travis messaged her.
One said: "Kelce really did it."
Another added: "Is she standing next to Donna Kelce? damn Travis already introduced her to the parents he's making moves."
A third wrote: "Taylor Swift and Travis Kelce the duo that we thought we never needed."
Some even pointed out that the pop star mentions the sport in one of her songs.
In Red (Taylor's Version), there's a track called 'Stay' and she sings: "This morning I said we should talk about it/Cause I read you should never leave a fight unresolved/That's when you came in wearing a football helmet'And said, 'Okay, let's talk'."
Who knows whether Taylor is just there as a friend because it was convenient in the middle of her humungous tour or if there really is something brewing between her and Kelce.