Sam Asghari is threatening to release 'extraordinarily embarrassing' information about Britney Spears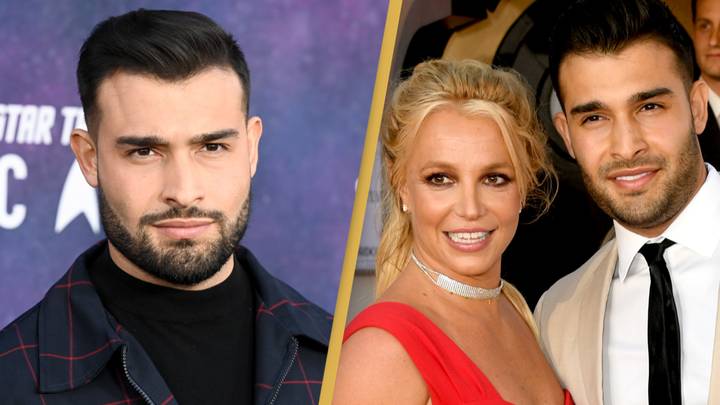 Featured Image Credit: Gilbert Flores/Variety via Getty Images/ Kevin Winter/Getty Images
Sam Asghari is reportedly threatening to release 'extraordinarily embarrassing' information about his estranged wife, Britney Spears, if their prenup is not renegotiated.
According to Page Six, a source has said Asghari wants the 'Gimme More' singer to do exactly that now their marriage is allegedly over - and pay more than what they agreed in their prenup agreement 'in order to keep her secrets'.
While it's not clear yet just how much cash or whether disclosures of negative information are permitted, they continued: "So that's what Sam is focused on."
TMZ, ET Online and PEOPLE reported that Asghari lodged documents to separate from the pop star and cited 'irreconcilable differences' for the split.
The two got married in June 2022 in a lavish ceremony that was attended by huge A-listers.
TMZ claims they recently had a 'nuclear argument'.
It's claimed that Asghari confronted Spears with allegations of infidelity, however the nature of those rumors haven't been revealed or confirmed.
Another source gave Page Six the reassurance that Spears, whose 14-year conservatorship under her dad Jamie Spears was terminated in November 2021, is being 'protected' by her team and the end of her marriage 'will be respectful.'
In the lead up to their star-studded wedding last summer, Spears and Asghari signed a prenup agreement that Page Six revealed was in 'favor' of the singer.
The source claimed: "Any money she made before the wedding is protected."
Spears' attorney Mathew Rosengart, who helped terminate spears from conservatorship allegedly helped work out her 'ironclad' premarital agreement.
TMZ reports that Asghari's lawyer, Neal Hersh, has included a clause in the divorce filing that reads: "[Sam] has yet to determine the full nature and extent of the separate property assets and obligations of each party.
"There are various items of community and quasi-community assets and debts, the full nature and extent of which are unknown to [Sam] at this time."
Spears seemed to be undisturbed by all the rumors circulating online as she's posted on Instagram today (17 August) about wanting a horse.
She captioned her pic: "Buying a horse soon !!! So many options it's kinda hard !!! A horse called Sophie and another called Roar ??? I can't make up my mind !!! Should I join the camaraderie and put a pink cowboy hat on ??? Either way I think I found my sweet spot with Roar."
In a since-deleted Instagram post, he wrote: "Ninety-nine percent of the time those are all clickbait [stories] for you to click and for them to make money, and that time is over."
UNILAD has approached both Britney Spears' and Sam Asgari's representatives and lawyer for comment.