MrBeast warns fans not to fall for deepfake scam of him with 'world's largest iPhone 15 giveaway'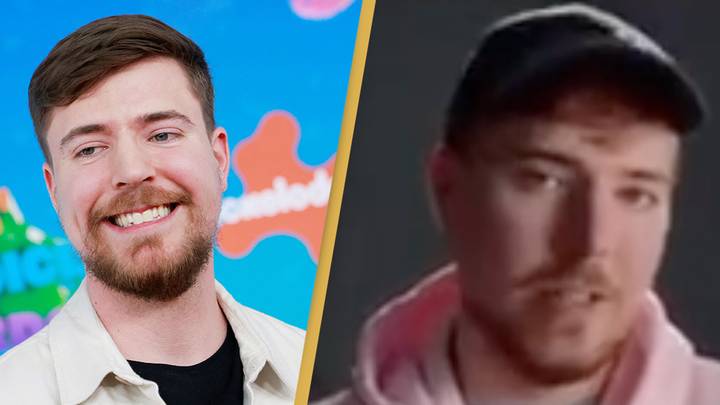 Featured Image Credit: MICHAEL TRAN/AFP via Getty Images/X/@MrBeast
MrBeast might be famous for his epic, high-value giveaways, but the YouTuber is urging people not to fall for one particular offering involving an AI version of himself.
A quick look at MrBeast's YouTube channel will tell you that the content creator has recently offered $500,000 to a subscriber who managed to 'survive 100 days in a circle', and an entire island to the person who became his 100,000,000th subscriber.
So with Apple's iPhone 15 now on the market, it's entirely feasible to think MrBeast could be offering the new device as part of a giveaway.
A video doing the rounds online claims he's doing exactly that, as it shows MrBeast - or at least a figure that looks like MrBeast - announcing that 10,000 people will be able to get their hands on an iPhone 15.
"If you're watching this video, you're one of the 10,000 lucky people who'll get an iPhone 15 Pro for just $2," he begins.
"I'm MrBeast, and I'm doing the world's largest iPhone 15 giveaway. Click the link below to claim yours now."
It's a convincing video, and at first glance you'd really have no reason to doubt it. But the thing is, it's not MrBeast.
While the video does depict the content creator, it's not him not saying the words - they're actually the work of an eerily accurate AI deepfake.
Deepfake videos use artificial intelligence to create completely new video or audio, meaning they can be used to make it look as if people, including celebrities, have done or said something that never actually happened.
MrBeast issued a warning to internet users after being aware of the deepfake, which he said some people have already seen popping up on their internet feeds.
"Lots of people are getting this deepfake scam ad of me...," he wrote on X. "Are social media platforms ready to handle the rise of AI deepfakes? This is a serious problem."
Cristina López, a senior analyst at Graphika, a company which researches the flow of information across digital networks, told Insider that deepfakes are generated by a computer which has 'been trained through countless existing images'.
To avoid falling victim to one of the fake videos, there are certain indicators of deepfakes that you can look out for.
These include any blurry or obscure images, unnatural lighting and words or sounds that don't appear to match up with what is happening on screen.
You should also check where the video has come from, and do further research into any offering or scheme that the video might be advertising, to ensure it's legitimate.