Blueface leaves fans horrified after tweeting picture of his baby son's genitalia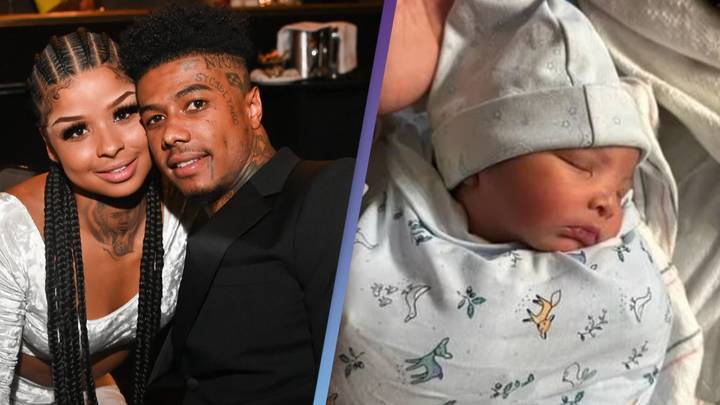 Featured Image Credit: Prince Williams / Contributor/Twitter/@chriseanmalone
**Warning: Contains discussion of a sensitive photograph of a child's private area and foul language.**
People are flooding to social media in concern for Blueface's baby after he uploaded a photograph of his son's private parts.
The 26-year-old rapper - real name Johnathan Jamall Porter - shares a son with fellow musician Chrisean Rock.
Yesterday (Sunday, 24 September), he uploaded an image of his child's hernia - located on his private parts - to his X - formerly known as Twitter - account.
Blueface also accused Rock of missing an appointment and prolonging when their son will be able to have surgery.
Blueface posted the sensitive image of Chrisean Jesus Malone Jr alongside the caption: "This what my son d**k look like an she worried about me an lil baby c**t like bih get our son c**t right then do what you want.
The rapper went on to attack Rock in a tirade of tweets.
One reads: "I had a baby with a crack baby smh it's my fault to fr can't cap I tried to get that abortion but she prayed for this s**t."
He also accused Rock of 'acting like it's not a problem' their son is allegedly sick with a hernia.
Another tweet reads: "I only went to b more for the surgery but when we got there they said you missed the appointment it was two days ago the doctors are busy now we have to reschedule at that moment I knew she wasn't really up for the challenge."
"Haven't seen rock make one move or decision right by the baby but you want to be mad at me for telling the truth she listens to comments an clout that's it that's y I bleed her online she acts right after guarantee that surgery get done before she do anything else an that I want," Blueface continues.
And people are flocking to the tweets to condemn Blueface for posting a photograph of his baby's private parts and his avalanche of posts.
One said: "You committed a crime bro what you posted was wrong."
"Imagine growing up & seeing your dads old tweet about wanting to abort u," another wrote.
A third commented: "Put the phone down..."
And a final resolved: "Somebody seize his phone and jail him."
UNILAD has contacted Blueface and Chrisean Rock's reps for comment.